iDesires Review updated on February 7, 2021, by Live Cam Reviews.
Introduction
They claim to be the world's first interactive live porn site where viewers can choose the type of action that takes place.
Even though iDesires was created by the same company that brought you Im Live (50 FREE Credits) and Fetish Galaxy, it's actually not a live webcam site. Nevertheless, we felt that this site deserved to be included in our site reviews just because it's so much fun!
Over the years, porn has lost its appeal to many people, which is why live cams is such a booming niche. But with sites like iDesires, you can make your fantasies come to life.
Keep reading the review below to learn more about this unique porn paysite.
I also recommend reading our article — How to watch live sex.
Impression
Have you ever played any of those 3D porn anime games?  You know, the ones where you can select your character, select your fantasy, and then watch the action. Well, iDesires is kind of like that, only instead of viewing animation sex, you're watching real-life sex.
The free tour looks very impressive. Just the way the theme looks and how you navigate the site shows how innovative the site is. At first, I was kind of confused about how it all worked until I saw the 2-minute site trailer which explains how it works.
How It Works
So first you select a game.  Depending on the game you select, you then select a character—for example, you can be a businessman, a fitness trainer, a photographer, etc.  Once the game starts, it's similar to a "Choose Your Own Adventure."  The video plays up to a certain point, and then, there's more interaction about what to do next.  You have to give the site credit for coming up with this type of interaction in porn—no other sites do this!  Time will tell whether this will become a new kind of porn.
IDesires Content
The video quality is crisp and sharp with Full-HD 1080P options.  Each of the videos—also called "Shows" and "Games"—offers a completely unique POV experience.  The top categories include Naughty Nurses, 18+ Teens, Roleplay, and Girlfriend Experience.  The types of porn stars include Big Tits, Lesbian, MILF, Blonde, etc.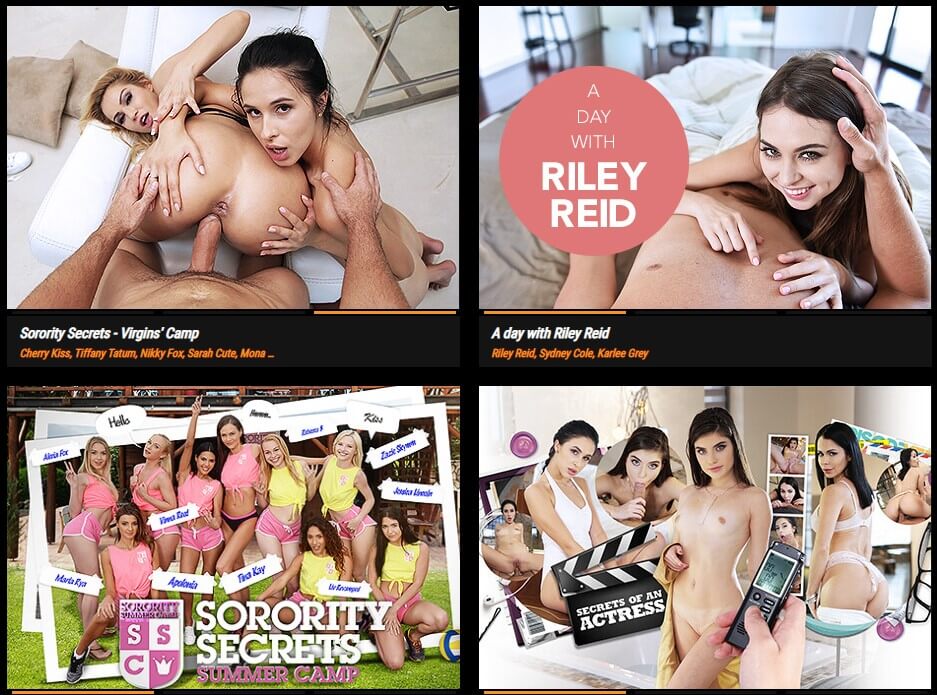 You can't download the videos since there's no real beginning to end.  So think of it more as playing a sex game online, but with real porn stars and hardcore sex.  Each show has a description of the storyline.  You can view high-quality images of all the models within each scene by clicking on the "MODELS" page from the top menu.  Damn!  Some of these babes are absolutely stunning!
Price
The way iDesires works is this.  First, you buy credits that can be used to play/watch the interactive sex shows.  The larger the credit package, the more you'll save:
$9.95 for 100 credits (+5 FREE credits)
$39.95 for 1000 credits (+50 FREE credits)
$59.95 for 2000 credits (+100 FREE credits)
$99.95 for 5000 credits (+250 FREE credits)
So unlike your typical porn site, there's no monthly membership; you only pay for what you watch.
Conclusion
Want to be that guy who gets to experience what it's like to bang super-hot chicks in fantasy-like storylines?  IDesires gives you control over your porn movies, unlike any other paysite. All you have to do is visit the free tour and have a look at the girls.  If you're tempted, you can try it out for as low as $9.95.
Recommended Reviews For You