Secret Friends Review updated on February 28, 2021, by Live Cam Reviews.
Introduction
Secret Friends, although being somewhat of an unknown live nude cam girls chat network, is one of the longest-running sites in the business.
For the longest time, I refused to review this site simply because the site design looked so bad.  Well, I'm glad to say that they've finally updated their site with a fresh new look that matches the high-quality girls on this friendly sex chat network.
The model's profiles are detailed, the girls come from everywhere, and with prices starting at $0.99 per minute for group chat, it's one of the better-priced sites as well.
New members get 5 FREE credits when signing up for a free account. There're other sites that we have reviewed that offer a lot more FREE credits for new members.
Impression
The home page makes everything as easy as possible.  There are no flashy gimmicks or distracting advertisements.
Basically, you get just what you need: tons of fun, flirty amateur webcam girls displayed by simple profile pictures with links to FREE CHAT and PROFILES.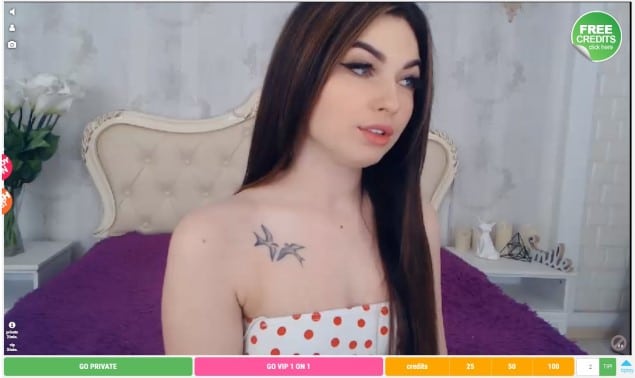 I went ahead and clicked on a Euro babe and was pleasantly surprised by the crisp video quality.  I tried a few others, and they looked good as well, but not as sharp as the first one.
The free video chat requires a username and email registration.  It only takes a minute and this way you can actually see for yourself what this site is all about.
Secret Friends Live Cam Network
Secret Friends is actually part of a much larger network of webcam sites, but they've since combined all these sites into one.  For example, at one point, there were Latina Friends and Sorority Friends niche sites, but they've since removed these sites.  Don't worry, all those young Latinos and sexy College girls can still be found on the newly updated Secret Friends site.
Currently, there are well over 1300+ models registered to the network.  The girls aren't just some nameless models who model for a week or two, then disappear forever.  Most of them are active models, and you can find girls online are consistent times throughout the daytime and nighttime.
There seem to be about 50 to 100 models online whenever you visit the site.  The overall theme seems to be young-looking teen (18+) models of European descent, but there's a great variety of ethnic flavors and some more older, more experienced models as well.
Live Sex Shows With Nude Cam Girls
Each model comes with its own profile page.  These include some QUICK FACTS like birth date, height, eye color, and favorite saying.  The Q&A section is a little more descriptive and lets you learn more about each girl on a more intimate level such as her personal fantasies and the most unusual place she's ever had sex.
At the bottom of each profile are actual screenshots from her video chat sessions.  As with the webcam quality, the picture quality will vary from model to model.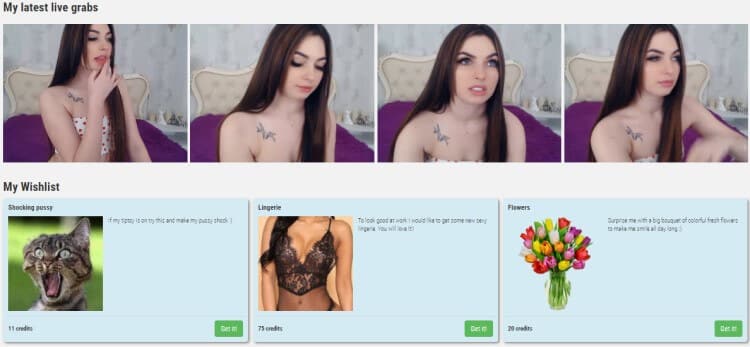 You'll notice a "Find out when I'm online" link which displays a large page showing the schedule of ALL the active models by alphabetical order.  I've never seen this on any other site, and it proves how dedicated these models are compared to some of the "big" networks:
Price & Membership Types
The first membership type is the basic free account.  This will allow you to chat for free and view the models in a non-nude webcam video feed.  From there, you have the option of purchasing "tokens" and enjoying the nude and hardcore shows:
Group Chat – 10 tokens/min
Private Chat – 20 tokens/min
Cam2Cam (Private Chat) – 40 tokens/min
You'll notice that the Cam2Cam option is double the cost of regular private chat.  Most sites offer this at no additional cost, so if you enjoy this feature, then this is one of the main downfalls of the site.  Tokens can be purchased in the following packages:
130 credits for $19.95
230 credits for $29.95
The above are the most recent prices, but please note that occasionally there are special discount offers to get you more tokens for the same price.
Conclusion
Secret Friends offers a good selection of outgoing nude cam girls who seem to enjoy their work more than on other dirty cam sites.
There are no needless complications, and the price is pretty good to boot.  But the simplicity of it all is almost too much.  Don't expect many extra special features, and the extra charge for Cam2Cam seems unfair.
In the end, the long-term success of the site speaks for itself.  It may not be the perfect network, but you'll discover that it offers some great girls at reasonable prices.
Recommended Reviews For You