Chaturbate awards articled published on February 5, 2021, by Adult Cam Blog.
Vote And Celebrate 10 Years With Chaturbate
Back in 2012, we at Live Cam Reviews published our first review of Chaturbate. With their new adult cam concept with free sex cams where the users had the option to send a tip to the broadcaster, we knew they were on to something big. A
Now it's 2021, and has won several adult cam awards and are one of the largest and most popular sex cam sites on the net, with 4000+ performers online at any time of the day and tens of thousands of users watching.
To celebrate being up and running for a decade, they are holding their own 10 year Chaturbate Awards. Where you as a member can vote for the top cam models that you think should be the Chaturbate award winners.
Vote For Your Favorite Chaturbate Broadcasters
They have added 24 categories where you can vote for the best performers: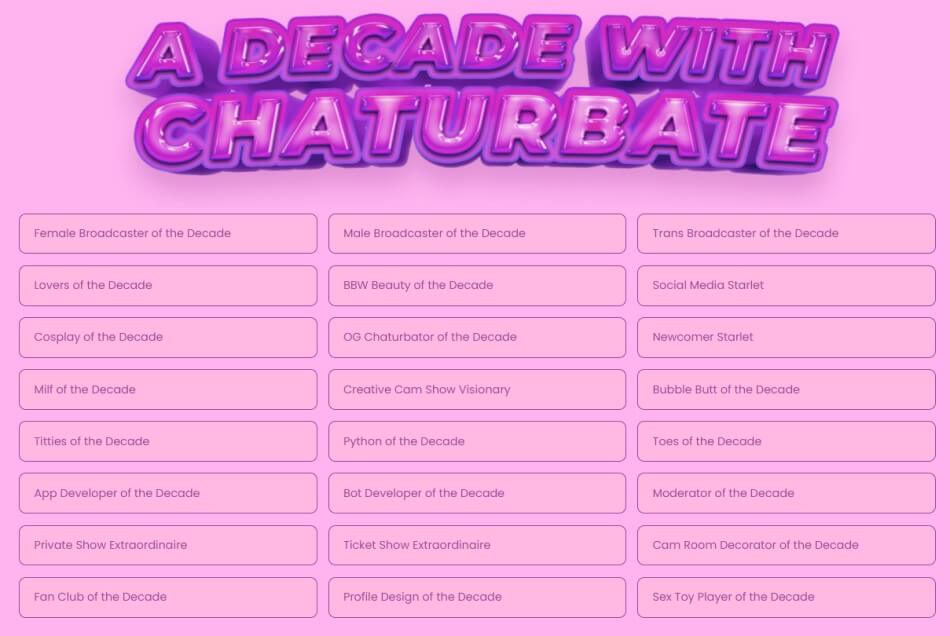 Behind each awards category, you find a selection of 10 of the most popular performers in that category. To vote simply click on the profile picture of the broadcaster you want to vote for and then confirm it.
Below you can see the broadcaster you can vote for in the award title 'Private Extraordinaire':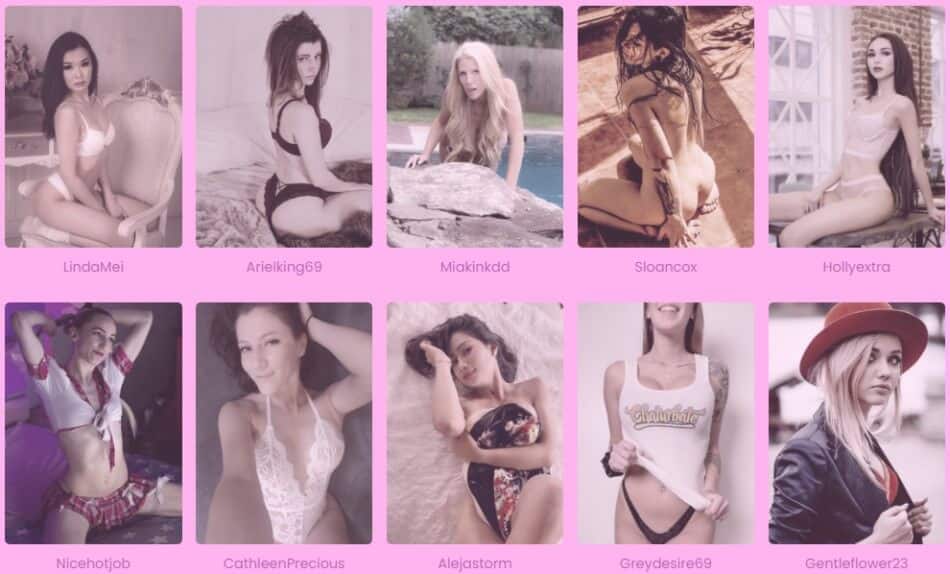 The voting is open until the 12th of February so make sure to head over to Chaturbate now and give your vote.
Why Is Chaturbate So Popular?
Maybe you have not heard about Chaturbate before and wonder why it's one of the most popular adult cams on the internet today.
Before all sex cam site models made their money inside the private one-on-one cam shows. You would visit a webcam site and signup for an account and then you could visit the performer's chatrooms and get to know them a little bit. But inside these free public chatrooms their where no nudity at all, it was only away for the model to get you into a private show.
So what Chaturbate did was to come up with an alternative way for the models to make money. So instead of trying to find that one user that was ready to go into a private and pay the minute rate, they instead let the performers show everything in the free webcam rooms. By doing this they could get so much more users to the site, and nowadays popular Chaturbate broadcaster can have more than ten thousand viewers during a show.
How Can The Cam Models Make Money?
So now that they were giving away free sex cam shows they needed to add a way for the models to make money. So they added a voluntary tipping system, where the users have the option to send a tip to the models. And this has shown to be even better than the minute rates they can make for a private show. Today many of the broadcasters at Chaturbate don't even accept private one on one shows because they can make more money from tip when throwing a free sex cam show.
If you are interested in more details about how broadcasters make money, please read my article — How to make money on Chaturbate.
Chaturbate Awards Summary
For more details about the site, read our full Chaturbate review or follow the link below and give your vote.
It feels like it wasn't that long ago that they launched Chaturbate, but it has already been almost a decade since I first came across the site and sat down to write a review of the site. Since then, they have grown a lot and also won several adult cam awards over the years. And now you can vote for which performers you think should be the Chaturbate award winners.
Chaturbate is one of the best sites today both for people wanting to watch live cam porn and for performers that want to earn money online by hosting their own live sex cam shows.
Visit Chaturbate Now & Give Your Vote
Who do you think should be the Chaturbate award winners?
which are your favorite performers? Please take a minute and share your own experiences with the site in our comment section below.