Thinking of trying the world of online live sex cams? People from all walks of life watch sex cams, but one thing they have in common is that they come from watching regular porn online and looking for more real interaction. Then live sex cams are the best option, here, you can talk, chat, and have control of what is going to happen.
We have been researching and reviewing live sex cam sites since 2012, and we work daily to keep our reviews, and top sex cam lists up to date. In this guide, we will share our experience on how to get started and get the most out of your camming experience.
Are You Looking For a Free Sex Cams or Premium
In the early days of adult webcams, the only option to watch live sex cams was to pay a high minute rate for a show. Today the market has changed, and there are two main ways to watch live porn.
Free Sex Cams: This option was first made available on Chaturbate.com, which you find at the top of our Top 10 Adult Webcam Review List. They figured out a new business model on how they could make money by letting the visitors access the live-stream sex shows without paying a minute rate. By implementing a voluntary tipping system where a visitor has the option to send a tip to the cam performers during the show. With this tip, visitors could control sex toys or trigger certain sex acts. With this new system, they could attract thousands of people into one live stream, and there would always be a small number of visitors ready to send tips to the cam performer. Today most cam sites have adopted some tipping system, and many offer free sex cam shows.
Start watching before signing up for an account
Watch free sex cams together with other visitors
Most performers are amateurs
Premium Adult Cams: Here, you find fewer free cam options, but instead how a larger selection of professional cam performers. The free sex cams often have more of an amateur feeling to their models. So if you are looking for more professional cam performers, premium adult cams like Livejamin.com are your option. Also, if you are looking for niched cam sex-like fetish cams, you often need to turn to premium cam sites for a better selection of fetish cam models. The premium adult cams minute rates start from around $0.88 per minute. Some of the top premium adult cams also have VIP reward programs that you can read more about below.
Non-nude free chat
Professional cam models
Better selection of niched cams
VIP programs
Choose a Sex Cam Site
A good place to start is without Top 10 Adult Webcam Reviews, here, you will find the highest-rated cams presented on our comparison list. Or, if you are looking for a more specific niche, we also have the Top 10 Asian Cams, Top 10 Fetish Cams, Top 10 Gay Cams, Top 10 Trans Cams, etc.
If you are new to cam sex, we recommend starting with Chaturbate or Stripchat (reviews), the two most popular sites with the best selection of free sex cams. At both sites, you start watching cams as soon as you land on their home pages, no need to signup. So this is a great way to get more familiar with adult camming and see how it works without spending any money.
On the other hand, if you know you are looking for a more premium alternative, we recommend starting with Live Jasmin or Im Live (review). They are two of the most popular premium adult cams, with a large selection of professional and beautiful adult cam performers, and both offer VIP programs for big spenders.
More Than Live Cam Sex
What can you expect on top of watching live sex shows? Cam performers, or as they nowadays are often called, content creators, can often also upload content such as images and pre-recorded videos to their bio page. This content can sometimes be free, or the content creator has set a price on it.
Exempel of free content that one model shares: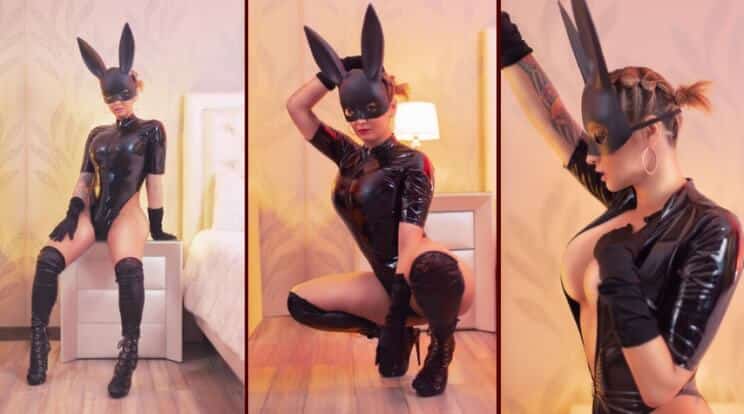 You can also often find their social media contacts on the bio page, which usually charges a one-time fixed price.
Pricing
Comparing prices between cam sites is not easy, as almost every cam site uses its token or credit system. This means that you buy credits or tokens that you can use to pay for private shows, send tips, send gifts, buy pre-recorded videos, etc. Credits are sold in bundles; the more you buy, the cheaper they get, so the price for one credit depends on which package you bought. The second factor is that the cam models can often set how many credits they want to charge per minute.
So the pricing varies a lot between various models and depending on the credit package you have topped up your account. We can look at the lowest prices, but remember that you need to check with the model what they charge to know the exact price. Also, check out our special deal page, where you will find the lastest sex cam deals.
Example of Token packages found on Chaturbate: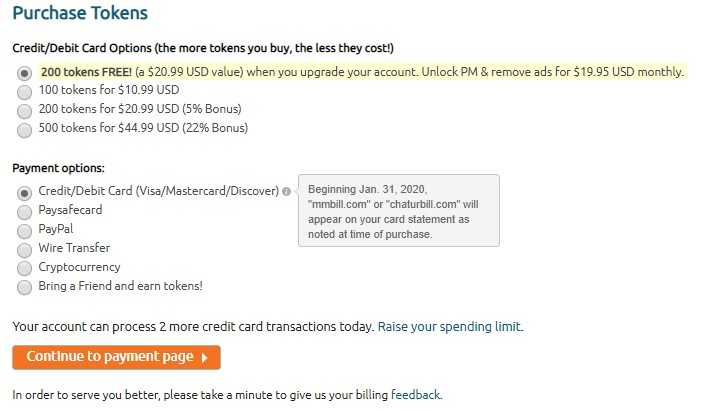 If looking at the cheapest cam sites, Chaturbate is the winner, where the price can be as low as $0.47 per minute for a live private cam2cam show. And in the premium segment, a private Live Jasmin nude show starts at $0.98 per minute. The fastest way to compare the pricing is to look at our Top 10 Adult Cam List there, you can see the starting prices on all the most popular cams.
We have gone into more detail about cam credits in our article – Chaturbate Tokens.
Payment Options
The most common way to pay for your credits when topping up your adult cam account is to use a credit card, and all the sites we have reviewed here at Live Cam Reviews accept credit cards.
Two other popular ways nowadays are to use cryptocurrency or PayPal, and some of the top cam sites have adopted and added it as a payment option. Read our articles Sex Cams With PayPal or Webcam Sites That Accept Bitcoin, in these two articles, you can learn which cam sites accept each payment system.
VIP Programs
If you are planning on becoming a big spender on a webcam site, then we recommend you choose a site that has a sex cam reward program. VIP programs often give you special discounts, lover-priced credits, and more. But for a big spender, the VIP program's most important role is to identify you as a high roller and let the cam models know that. Because just as in real life, if you are a big spender, the girls like to give you special attention.
The Elite Program found on Live Jasmin is what we consider to be the best. You can work your way up the ladder of titles there, and the higher you get, the more attention the cam models give you. Learn more about this VIP Program in our Live Jasmin Elite Program article.
How To Create an Account
Creating an account at most adult webcam sites is quite similar. Nowadays, at most sites that we have reviewed, all you need to signup is to come up with a username and a password and provide an email address.
Below you can see the signup page for Chaturbate:

Summary
With this guide, we want to introduce our readers to how to use sex cam sites and get started. We hope this guide has helped you get ready to start your own sex cam experience. Always have fun, use safe sites and stick to your budget!
Recommended Reading For You