Sex Cams With Reward Program article published on January 20, 2021, by Live Cam Reviews
The Two Best Live Cam Reward Programs
If you are a big spender and like to be treated like a VIP? Then this article is for you, I have picked out two top 10 sex cam sites that have the best reward program for their most big-spending members. These reward programs let you climb in rank giving you more exclusive titles which just as in the real world will give you more attention from the ladies and it's the same here with the camgirls. They can see your VIP status and that alone gives you a lot more attention from the camgirls.
These reward programs are true VIP programs, where you need to keep spending in order to keep your status. So if you are looking for the best cam sites where you can get the best special VIP treatment? Then keep reading my sex cam with reward program post and learn more about the sites in the mini-reviews below.
You can learn more about each site by following the links to the full reviews or you can click on the links that will take you straight to the sites.
Live Jasmin Elite Points
Being one of the longest-running adult cams on the net and an award-winning site you get nothing but the best when it comes to camgirls and site features. They have also created one of the most popular sex cam reward programs, where big spenders can climb up the ladder and reach the top VIP rank named 'Casanova'.
As you can see in the images above you can climb in ranks by buying Live Jasmin credits and the more you spend the higher you climb. Each rank also gives you special discounts and extra credits on top of the credits packages that you buy.
Spend 15000 LiveJasmin elite point to reach 'Casanova' status. But remember you won't keep your rank forever because the points reset every month, so you need to keep spending to keep the rank that you have reached.
Learn more about the site in our fill Live Jasmin Review or follow this link that takes you straight to LiveJasmin.com now.
Im Live Reward
Is another award-winning adult webcam site that has been around for many years, ImLive is right up at the top with Live Jasmin in terms of sex cam chat features as well as cam performers. They have also taken the step to award the users that spend the most. They have gone with the more traditional VIP status names bronze, silver, gold, and the final level is the VIP.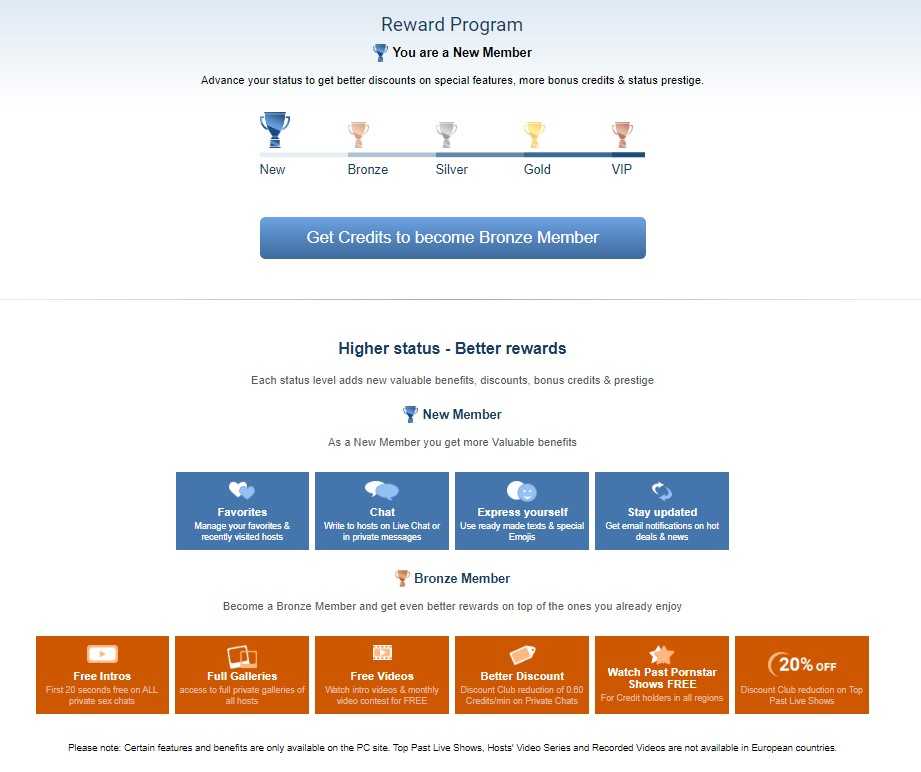 Above you can see the different membership statuses and the benefits you get when taking the first step from new members to become a bronze member. Already as a bronze member you can for example watch past recorded live pornstars cam shows for free, and get a 20% discount as well on pre-recorded live cam shows.
Each level also gives you a discount on the minute rates that you pay for a live sex cam show, as well as extra credits added on top of the credit packages you buy. The Im Live reward program gives you pretty good discounts but it doesn't feel as exclusive as the Live Jasmin Elite.
Learn more about the sites and the discounts in our full ImLive Review or go straight to ImLive.com now to learn more about the site on your own.
Sex Cams With Reward Program Summary
If you are looking for the most premium VIP treatment and are ready to spend big bugs on live cam shows, then the Live Jasmin Elite is the program that I would go for. On the other hand, if you are looking for an award program that quickly gives you pretty good discounts and benefits then Im Live Reward could be your choice. I recommend visit both sites and get a feel for the layouts, site features, and the cam performers before choosing a site. Both sites are totally free to join and at Im Live now get 50 free credits and Live Jasmin has a special spin the wheel bonus where you can win up to 100% extra credits on top of your first purchase.
What do you think about these sex cams with the award program? Please take a minute and share your thoughts in our comment section below!