Fetish Galaxy review updated on April 29, 2023, by author David.
Introduction
Fetish Galaxy is a top fetish cam site created by the company behind ImLive Fetish (review). Regarding specific fetish cam site shows, there are more categories on this site than any other live fetish cam.
The webcam models found here are known as "Live Experts" and are ready to perform all kinds of kinky webcam sex.
What makes this cam site different from most are the "Video On Demand" and "Top Spots around the World" sections. Which makes it more of a fetish community than just a 'chat site.'
I read my Fetish Galaxy review below about this unique site.
Impression
Looking at the left sidebar under the GET YOUR FETISH header. You'll find all the live fetish cam girls, shemale, and guys currently online.
Since the fetish categories are niche-specific, you won't always find many models within each category. But you'll appreciate the jerk-off instructions, hard anal fisting, feet cams, BDSM, humiliation, and hot babes sporting fetish gear and latex outfits.
Whenever I review a new site, I like to test the various web pages on a desktop and smartphone. I found no issues while browsing and entering the video chat rooms on my Samsung Galaxy, and the video size automatically fits the size of your screen. So the overall user experience on this site is excellent.
The Fetish Cam Models
Since my last visit, the site has grown considerably. Currently, there are nearly 200+ models online, slightly fewer than at sites like X Love Fetish. But the models here are more premium and cover all sexual preferences.
The fastest way to find your perfect fetish model is to click on one of the fetish items on the top.  This will automatically update the live model list with all the models and downloadable videos displayed on the main search page. You can use the advanced search option if you're looking for a specific type of girl.
Webcam Fetishes
The models at Fetish Galaxy cover all ranges of fetishes, including BDSM, cross-dressing, cum play, foot fetishes, rubber/latex, domination, Humiliation, Jerk-off instructions, Nipple torture, Feet, Fisting, Whips, Electro Sex, etc.
To find your favorite fetish webcam model, you can quickly filter them by fetish. One of the most popular categories here is the webcam feet models. If that sparks your interest, I also recommend reading our article – The Best Chaturbate Feet Cams.
Each model is displayed by the profile picture with links to one of the following:
Intro Session
This free chat option lets you chat and ask the model more about herself and what she's willing to do for you if you enter her private show.
Below is a screenshot from a girl that I chatted with for this review:
If you're an unregistered guest, then every 5 minutes, a window will open displaying a join page.  This free sign-up page will give you uninterrupted chat time with all the models offering Intro Sessions.
It's free to join and only requires a username, email, and password. This will open up other site features, including private sessions.
Private fetish live cam shows
The private live fetish cam porn session is where all the explicit shows occur.  The models charge you per minute in these private shows.
Compared to other sites, the Fetish Galaxy models seem more willing to perform to unusual requests, but if you're unsure if she's into what you're looking for, I recommend you ask her in free chat.
The free chat is the best place to get to know the model and learn which of your fetish webcam fantasies she can full fill.
A very popular kink is the webcam feet shows, and many models are always online in the feet fetish category.
Candy Shows – Chepear options compared to a private one-on-one sex show
There are shows where the model performs in front of many viewers. It starts with a free preview show where you can see and interact with the models before the real show starts. But as soon as the free preview show ends, you'll be cut off if you haven't bought a ticket for the full show.
So instead of paying a minute rate in a private one-on-one fetish webcam show, you can get a show for a lower price by buying a ticket here. The difference is that you are not watching the show alone, and everybody watching can read what is written in the chat during the show.
Fetish Galaxy Videos On Demand
The video section offers a good selection of fetish and extreme content for approximately 3 credits per video.  Compared to your typical porn site, it's rather expensive to stream online movies. But on the one hand, you don't have to commit to a monthly membership. So you can think of it more as "renting" a porn movie online.
The easiest way to find the recorded fetish content is by using the live categories on the left.  For instance, if you select "Electro Sex", then this will display any online model in that category with the video content displayed below the models.
Price & Credits
The private shows will cost you approximately $2-3 per minute. Some models will charge $4 per minute, so it's more expensive than average. A cheaper option is the Candy Shows, which cost you around $0.88 per minute.
If you choose only to browse the free chat model, then the site is completely free.  But you won't be able to enjoy any of the hardcore features.
Before entering private or downloading videos, you'll need to purchase credit.
They come in different packages, and there are no recurring fees.  Credit can be purchased in the following bundles:
25 credits for $25
50 credits for $50
75 credits for $75
150 credits for $150
250 credits for $250
Free Cam Tokens
Take advantage of the special free cam tokens deal and signup as a new member at Fetish Galaxy and get up to 15 Extra Free Credits on top of your first purchase: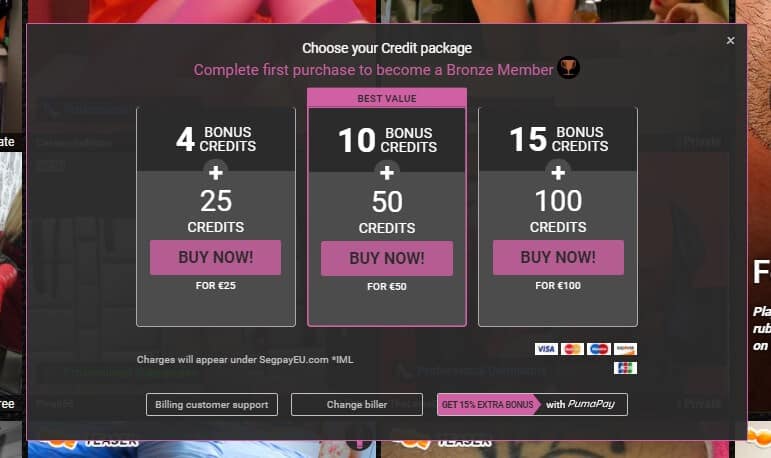 Membership
Signup for a membership and get the following benefits:
Live Video Chat with no interruption
Access to the model's videos and pictures
Recorded shows
Exclusive campaigns
Add the model to your favorite list
Free pornstar shows
Reward Program (earn points and advance in their reward program)
Conclusion
Fetish Galaxy is a top-ranked fetish cam with an honest attempt at creating a unique fetish community offering much more than just normal live cams.
There's a good selection of girls and transgender, but the video quality is hit-or-miss, as with most sites. The models often don't seem different from any regular live cam network.
It's free to try it out, and there are discount models if you spend the time looking for them. As such, you might want to visit this fetish cam and fulfill your webcam feet fantasies.
Recommended Reading For You