Sexier Ebony Cam Review updated on March 20, 2022, by Live Cam Reviews.
Introduction
Today's review is home to top live Ebony Cam Sex.  The site in question is Sexier.com.  It has a tempting selection of ebony amateur girls — many of which you'll also find on their flagship site ImLive.com. In this review, I'll cover the important site details to help you decide whether or not to join.
Note that if you're already a member of ImLive. Then you don't need to bother signing up since the same models are featured on both of these sites.  However, there are some differences in navigation and design, but it's basically a clone site of ImLive Black with the same selection of black girls.
I also recommend reading our blog post – Top Ebony Webcams Compared
Impression
Before I talk about the free chat and live shows, I'd like to first draw your attention to the main landing page.  When you visit the site as an unregistered member, you can enter the non-nude chat rooms and try out the basic features.
The free tour has all the live ebony models displayed by large profile images.  At the top-right of the page are the upcoming live porn star shows.  These shows are offered at fixed times throughout the month and feature celebrity porn stars giving you a unique live porn experience
The design is slick and transitions quickly while entering and exiting the chat rooms.  Mobile-phone users will also appreciate the smartphone version which lets you browse and chat on your mobile device. The site has grown considerably since my last visit and the selection of live hosts is always good no matter when you visit the site.
The Ebony Cam Girls
There are currently 48 live ebony cam models available in both free chat and paid chat. At busier times in the evening, you'll often find 100+ models online. The overall quality of the models is good with lots of young and attractive college students as well as older ladies in their 30s. Big browse-ass BBW girls isn't my thing, but if you're into that, then you'll probably like what you see on this site.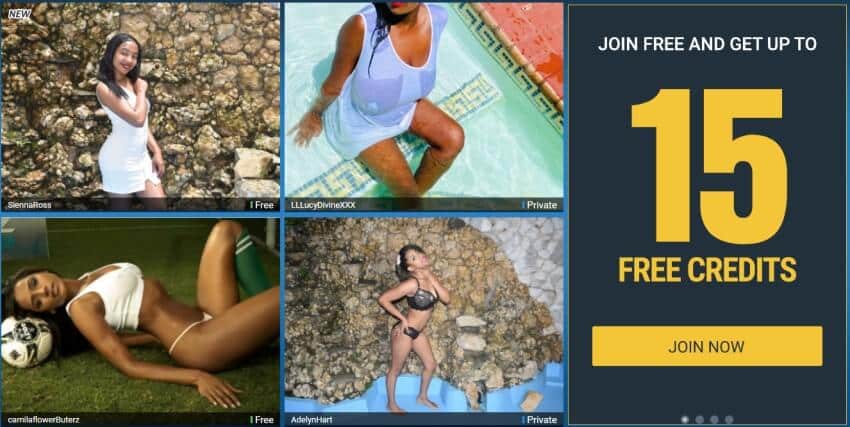 Models are mostly from the USA but there are some Europeans as well with cute British accents. It's easy to find the free girls – just look under their profile picture to see if they've already entered a private chat or whether they're still waiting for somebody to enter their public chat room.
Site Features & Celebrity Events
The "Pornstar" category's selection of Ebony models is smaller than the "live amateur" section. These celebrity models are generally more expensive but are also more "hardcore". If you're a member, you can send them personal messages to meet them online at a specific time of day.
Click on any of the models on the home page to enter their free live chat. Here you can learn more about the model before going in to a private 1-on-1 sex show.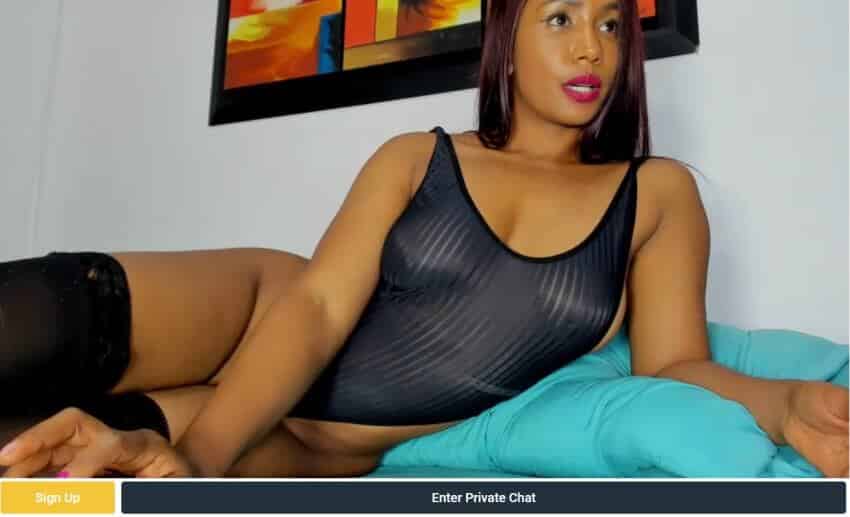 There are also the popular HAPPY HOUR models that offer private hardcore shows for only $0.88/min, but these are also group shows with multiple viewing members. If you prefer privacy, then it's going to cost you extra. On average, you can expect to pay $1.99 or higher per minute for private chat.
If there's a specific ebony cam girl that catches your interest, you can send her a virtual gift and download her previously recorded shows. The newest feature is the CANDY SHOW where members compete for the attention of models by sending "tips". You'll need credit for nearly all of these features. You can learn more about the different types of shows and pay-per-minute prices by visiting the model's bio pages.
Price
As with most cam site, the price for a private show vary depending on the model you choose. Most models are independent amateurs working from home and they set their own rate for a private show. But the great thing here is that you can start off in a totally free chat with the models and this is the best way to find a matching model that is willing to do the things you are looking for.
The minute rates start at only $0.88/min for the Happy Hour Shows and new performers from $0.98/min. If looking at the average price for a private cam show the price is around $1.99/min.
Credit packages can be bought in the following packages:
25 credits ($24.95)
50 credits ($49.95)
75 credit ($74.95)
100 credits ($99.95)
Conclusion
Sexier Ebony is one of the best-looking sites in the Ebony cam niche. Over the last year, the site has nearly doubled in popularity and is showing no signs of slowing down.  It's still somewhat limited in the selection of models. But if you prefer black women, then you'll enjoy the free sex chat, private masturbation, and live sex shows. You can trust that your money will be well-spent on this addictive chat network.
Recommended Reading For You