Thai Cam Girls article updated on May 19, 2021, by Live Cam Reviews
The Top Thai Cam Girls
Unfortunately often the live cam sites put all cam girls from Asia in one category, with no option to filter them by country.  So you have to look through all the Asian girls at each cam site to find cam girls from specific countries like China, Japan, Thailand, etc. If you are looking for popular Thai cam girls? Then this blog post will save you time and help you find the most popular girls broadcasting from Thailand.
All the performers that I have picked out for this article all work at Chaturbate.com, which is our number one ranked sex cam and also the site where you can find the highest number of Thai cam girls. Further down you can follow the links straight to each girl's chatroom, and if she's online at the moment you will enter straight into her live cam show.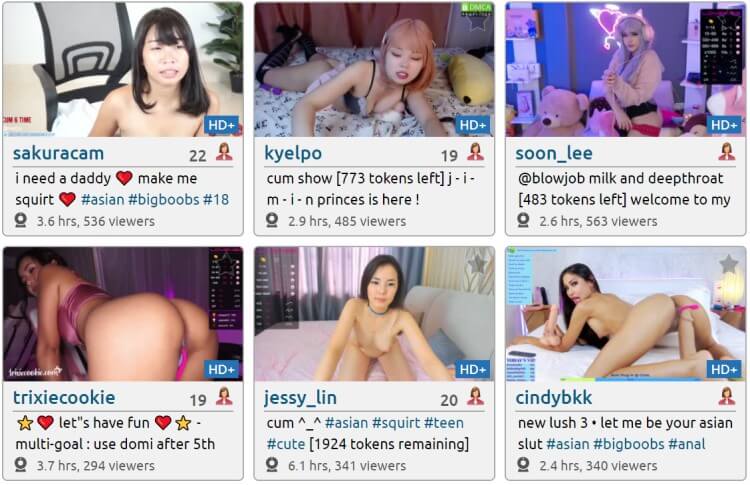 The girls from Thailand are found under the #Asian tag that you find on the Chaturbate cam home page. There are usually 200+300 Asian camgirls online so you have to look through enter the rooms to locate the girls. Most of the Thai girls don't display their true location, so I had to do my research to find the girls in the list below.
Have in mind that often girls come and go, so when you read this blog post some might already left the work as a camgirl. But I have picked out the most popular one with a high number of followers. So the girls below seem to take their cam girl career seriously.
Chaturbate is one of the most popular sex cams today with thousands of amateur girls, boys, couples, and transgender models broadcasting from all over the world. So why do we ranked it as the best sex cam? It's because here you can watch live cam porn for free with no time limits. Yes, it's true Chaturbate is totally for free when watching in the public chatrooms. In the public chatrooms, you have the option to send a tip to the performers. So I can see the girls in private shows? Yes, you can do that as well. And the second great thing about the site is that you can find private live cam porn shows that start from only $0.56, which is one of the lowest live cam prices on the market!
If you are curious about learning more about this free sex cam site, then take a minute and read our full Chaturbate review with all the details about how to Chaturbate!
Popular Chaturbate Live Thai Performers
Below you have four Thai girls that have grown a popular fanbase, bringing in thousands of Tokens each in both public free sex cams and private 1-on-1 on sessions.
CindyBkk – Once Got 65000 Tokens In One Single Tip
She's one of the sexiest Thai girls on cam with a slim body and huge silicone tits (paid by a tip from a user). She loves to play with dildos of all sizes and you can often see her sucking off a huge plastic cock in her free sex cam shows.
Head over to Chaturtbate now and see if Cindy is online!
Followers: 189689
Language: English and Thai
Body Type: Skinny, Slim, and Trained
Smoke or Drink: No
Body Decoration: No
Social Media: WhatsUp Lifetime (1000 tokens)
Private Shows: Dildos, Anal Shows, and Bigger Toys
BeeBeeThai – Huge Variation of  Sex Toys
Is another hot Thai girl with huge fake tits and a little bit curvy but a super-fit body. She gives away less during the free shows compared to CindyBkk, but trigger her interactive Lovense by sending her tip and you can get to see her squirt on cam.
Check out Bee Bee is online now!
Followers: 167069
Language: English
Body Type:  Slim
Smoke or Drink: No
Body Decoration: Tattoo's
Social Media: Twitter and Instagram (Free)
Private Shows: Stockings, Anal (Dildo up to 12 inches), Anal Beads, Oil Shows, But Plug Tail, Feet, etc
AsianBabyDoll – Loves to Seduce
If you want to get seduced by live Thai cam girls then AsianBabyDoll might be your choice. She takes things slower and likes to seduce you slower and not jumping straight to the hardcore part. I can recommend joining her Snapchat to get sexy seductive pictures from her straight to your mobile.
Head over there now and check out if her room is online now!
Followers: 399193
Language: English
Body Type:  Chubby
Smoke or Drink: No Smoking & Drink Occasional
Body Decoration: Earings
Social Media: WhatsApp (999 Tokens) and Snapchat (777 Tokens)
Private Shows: Her shows concentrate on reaching certain goals and she loves seduction
Deliciouslatte – New Thai Girl on the Block
Is the lesser know model of the four, but her fan base is growing fast so soon she might catch up with CindyBkk. If you like skinny girls from Thailand then she might be the Asian camgirl for you and she's also tattoed.
She is not online as often as the other girls, so she's harder to catch online. But as a free Chaturbate member, you can actually get notifications when your favorite models get online, this is a great free feature.
Head over to Chaturbate now and see if she is online now!
Followers: 42574
Language: English
Body Type: Skinny
Smoke or Drink: Drink Socially
Body Decoration: Piercing and Tattoos
Social Media: N/A
Private Shows: Yes
Summary
Above you have four popular Thai cam girls that love to get naughty in front of their webcams. If you have your computer ready there's nothing to wait for, head over to the girl's chatrooms and see who's online at the moment. Or do you prefer a mobile experience? If so, I'm glad to report that Chaturbate mobile version is one of the top sites in our sex cam on mobile list.
Chaturbate has the first spot in our Top 10 Sex Cam List, and with its 250+ Asian camgirls online it's also one of the top-ranked sites in our Top 10 Asian Cam Sex List.
What do you think about these Thai camgirls? Please share your own Chaturbate webcam experience in our comment section below!