Cam Contacts review updated on March 20, 2022, by Live Cam Reviews.
Introduction
Cam Contacts is a live video chat site connecting voyeurs to live webcam exhibitionists.  Cam models from around the world are available in all shapes and sizes.
At Cam Contacts You get to know the chicks in the free chat room and for a fixed cost per minute, you can enjoy a private sex show streamed live via webcam.
It's free to register and you can start viewing the models right away.
Impression & Design
When I first visited CamContacs, I wasn't sure what to make of it.  Most sites layout all the models online at that time on the landing page, but Cam Contacts shows one girl and two mains options: JOIN US TODAY! IT's FREE and Who is online right now.
When I saw the profile photos of the girls "Online," I was rather disappointed with the design.  First, the pictures are too small.  And second, couldn't they have spiced up the site with some colors other than the boring white design?  Yes, I'm being fussy, but for a site that offers 68,508+ live sex performers, you'd think that quality of design would match the high-quality CamContact models.
As it stands now, this premium cam site is being sold short with its design (for comparison's sake, check out the sexy designs of Sexier and Flirt4Free (reviews).  Other than the girls' nickname, there is no info about the model until after you click on her profile.
Model Categories
There are a LOT of categories for free chat and members-only shows.  A wide variety of chat hosts in every niche can be found on this network.  At first glance, it appears to be more of an online dating community — which it is.  But it's so much more.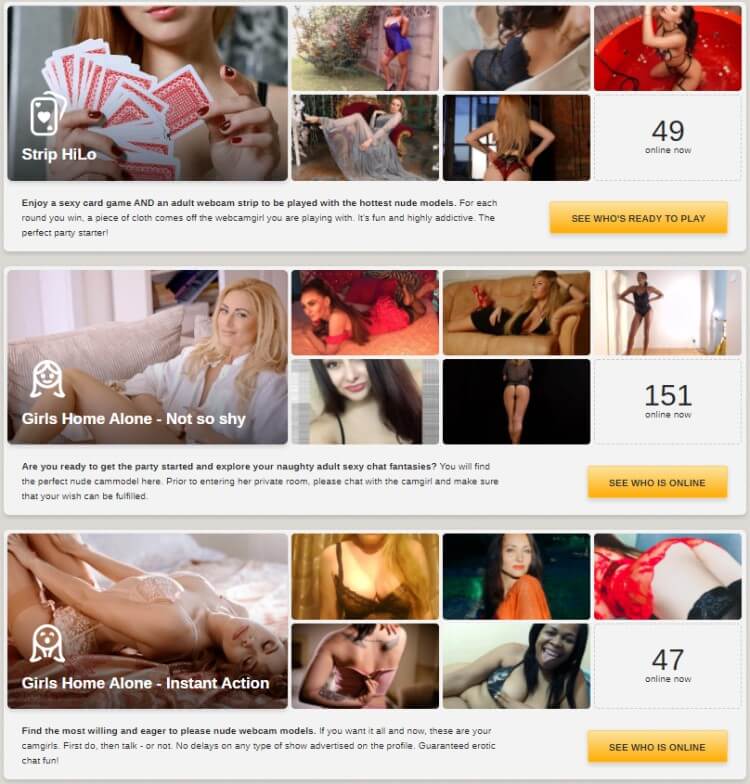 Similar to ImLive (review), CamContacts has both adult and non-adult sections divided as follows:
Non-Adult
Make New Friends:  Chat with fun and interesting people from around the world.  Keep in mind that nudity is strictly prohibited in this category.
Long Term or Marriage:  There's no better way to get to know someone online than through a live video chat feed.  If you're looking for romance, then this is the place to be.
Adult Softcore
Glamour Girls:  Looking for a beautiful webcam model?  How about some sexy flirting and striptease?  Here you will find the cutest and most exotic girls, some naughtier than others.
Girls Home Alone – A Little Shy:  Sometimes shy is sexy, especially if you have her all to yourself in a private show.  Make sure you check the model profile first to see what she's willing to do in a private chat.
Girl/Girl – A Little Shy:  Here you get two girls, maybe a little shy, but still willing to push their boundaries for your viewing pleasure.
Strip HiLo:  How about an adult card game where you can play in softcore adult categories?  Feeling particularly daring, then go ahead and place your bet.
Adult Hardcore
Girls Home Alone – Not So Shy:  The girls here are more adventurous.  Almost anything goes.  Check with the host in question first if you have specific requests.
Girls Home Alone – Instant Action:  Want to skip the small talk?  These girls don't waste any time and the hardcore stuff starts as soon as you purchase.
Girl/Girl – Hardcore:  I always thought that two girls were better than one.  And thanks to this hardcore lesbian category, every man's fantasy is now only a mouse click away.
Girl/Boy – Couples:  Ever wanted to peek in on another couple?  Here you view live sex (1-on-1) private shows.
Groups (3 Or More):  Self explanatory.  Nudity and hardcore action required!
Fetish:  Got a thing for latex, rubber, high heels, or stockings?  Not all fetishes require Hardcore action.  Check the chat host's profile prior to entering the private show.
Genders Benders:  Looking for something out of this world?  Transsexuals, shemales, ladyboys, or tgirls — check out these most mysterious creatures in the fastest growing fetish niche!
Boys Home Alone:  These boys are home alone and waiting to make your day.
Boy/Boy:  Look no further for hot boy on boy action!
Dungeon:  You've been a bad, bad boy.  Here you can expect hardcore punishments including domination, submission, S&M, and humiliation.
Video Playback Of Past Sessions:  Here you can purchase pre-recorded shows for a fraction of the price.  Keep in mind that this is NOT a live category.
Strip HiLo:  The popular adult card game is available is also available in hardcore adult categories.
Cam Contacts Membership & Value
CamContacts allows all categories for the best value in live cams.  Members can easily find models as low as $0.65 per minute.  Models are able to set their own cost per minute in the private room.  Below is a rough estimation of various member chat options:
"Not So Shy" – Private Chats (1-on-1)
Public Chat: $0.65 – $2.50 per minute
Private Chat: $1.10 – $4.99 per minute
"Instant Action" – Cam Shows
Public: $1.70 – $3.00 per minute
Private: $2.00 – $5.00 per minute
"Group-Live Shows" – 3 or more Webcam Performers
Public Show: $2.50 – $3.75 per minute
Private Show: $2.50 – $3.75 per minute
"Lesbian Shows" – 2 or more Webcam Models
Public Session: $0.85 – $3.00 per minute
Private Session: $1.29 – $4.50 per minute
Conclusion
Overall, I had a great time on CamContacts. It's not the prettiest site in terms of design and there are better adult cams sites in our top 10 list, but it's one of the biggest and cheapest sites you will ever find. And although the design is boring, the girls are quick to jump into action. 60,000+ gorgeous chat hosts putting on erotic performances for an unmatched value for your dollar should be enough, right?
Recommended Reviews For You