Article published on September 19, 2019 by David.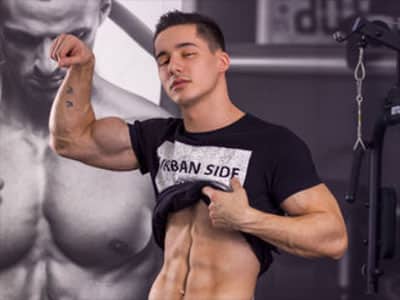 In this blog post, I want to compare two of the most popular gay cam sites. Namely, Camera Boys and Streamen.
For this comparison, I've used the same rating criteria as on our Top 10 Gay Cam Site Reviews. You can learn more about each site by clicking on any of the links below to read the full review.
Overall Impression
Both CameraBoys and Streamen have pleasant designs that are easy to navigate on both desktop and smartphone versions. The home pages display all the online models with the categories on the left. In terms of the overall design, both sites are actually quite similar. The live video feeds load up fast and it's quick to enter and exit the free chat rooms.
Overall, it won't make much difference which site you select since there's always a great selection of guys on each site with a slick design that is easy to filter the online models. So in terms of overall impression, I'd say that the sites are equal.
Video Quality
Obviously you want the live video feed to be clear and you want the video to load smoothly. There's always going to be a difference in quality since most models work from their home webcams. But overall, both sites have a great selection of HD cams.
However, the HD models on Streamen are easier to find. You can simply click on the 'Features' drop-down menu and select 'HD (best quality)' to filter only the best looking webcam feeds. Camera Boys also has HD cams but there's no easy way to filter them. This means you'll need to enter each model's chat room in order to view the webcam quality.
In terms of webcam quality, I give a slight advantage to Streamen for having an HD search filter.
Number of Models
For this review, I counted 97 online models on CameraBoys and 95 models on Streamen. So the overall model selection is approximately the same on both sites. In terms of model categories, both sites have a satisfactory list of niches to filter the models. Camera Boys allows you to filter by Asian, Latin, Twink, Bald, Big Cock, Blowjob, Muscle, and about 20 other categories. Streamen has a smaller list of categories including Daddy, Gay, Guy Next Door, Mature, and Bisexual.
Overall, there's not much difference between these sites in terms of the number of models and you should have no problems finding your preferred fetish on either site.
Chat Features
First, let's talk about the similarities. Both CameraBoys and Streamen give you the basic free chat features. You can change the size of the chat window in free chat mode and you can use emoticons and change the size and style of your font. You can also enter free chat rooms with the click of the mouse which is possible on both sites without having to join.
During free chat mode, you can also send tips to the models as a way to get extra attention. The guys will appreciate your support and it shows them that you're a member of the site and that you're a potential customer.
Overall, both sites have all the chat features you'll need for an enjoyable live cam experience and I can't really choose one site over the other as they are both give you basically the same chat features.
Other Features
Camera Boys does have one feature that Streamen doesn't. And that is their free credit offer. When you join CameraBoys.com, you'll get 10 free minutes to be used in a private session. This allows you to test out a live show without spending any money.
Streamen uses the popular Gold Shows which are similar to Cameraboys VIP Shows. Basically, you'll need to be a member to access these shows in which multiple paying members can view the show at the same time. So although these shows are named differently, they're basically the same thing.
Because of CameraBoy's free credit offer, I give the advantage to Camera Boys for having the better overall site features.
Site Usability
Streamen is currently testing its beta version for their new site design. I actually prefer this newer design as it appears more modern and they've also moved the 'Filters' tabs to the left sidebar. It's an improved design and is the better-looking site of the two in my opinion.
However, as I mentioned earlier, I tested both sites on mobile versions and everything is compatible on mobile. This means that regardless of the site you visit the live video feeds will automatically fit the size of your smartphone screen.
One thing you'll notice on both sites if you're visiting as a guest is that you'll be timed out from their free chat rooms after a few minutes of chatting. It's not a big deal since you can easily close the window asking you to sign up and continue your chat session. However, since it's free to create a lifetime account, I see no reason why you wouldn't want to as it opens up private chat modes as well as uninterrupted chat time with your favorite free webcam hosts.
Overall, I give a slight advantage for site usability to Streamen for their improved design.
Value For Money
CameraBoys' pay-per-minute rates start at $0.98/min but can be as high as $9.99/min. Streamen is almost exactly the same with starting rates of $0.99/min all the way up to $9.99 per minute. Both sites have about the same number of low-cost models so if you're looking to save money on gay webcams, then it won't make much of a difference which site you join.
Final Verdict
As you can see from this Cameraboys vs Streamen comparison, both sites have more similarities than differences. The difference between these sites has more to do with the individual model you select since every show will be different. But if I had to choose only one site to recommend, I'd choose CameraBoys. There's no real reason why other than being more comfortable with the site since I've been a member there longer than on Streamen. Also, the $9.99 free credit offer makes it a better choice for first-time members.
Gay Cam Resources
If you're still looking for the best gay cam sites, then I recommend you visit our Top 10 Gam Cams list with in-depth reviews and user comments. You can also view our Latest Gam Cam Reviews for the latest 2019 gay cam reviews.