How to watch live sex article updated January 27, 2023, by Live Cam Reviews
Nowadays, you can watch live sex at anytime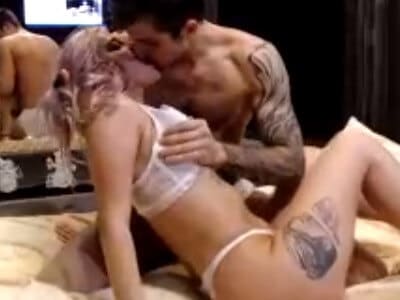 It has never been easier to watch real live girls, guys, couples, or transgender sex shows. Nowadays, all you need is access to the internet from a smartphone or a computer and you can start watching live webcam porn in minutes.
With hundreds of live sex cam sites on the market, you are just a few clicks away from seeing live sex shows. On these sites, you find both real amateurs broadcasting from their own homes to more professional webcam models streaming sex cam shows from a studio setup.
After been reviewing over a hundred adult webcam sites I have found my favorites and in this article I will share with you the two sites that I consider to be the top live sex cam sites.
For a more complete list of sites, you can also check out our Top 10 Adult Webcam Site List.
How to start watching Live Sex Cams?
The home page of almost all live sex cam sites displays profile pictures of the models that are online at that time. The profile picture is either a picture taken of the model or a screenshot from inside her chatroom. At some adult webcam sites, you can also hover with the mouse over the profile picture and see the live stream from inside the chatroom.
Often you don't need to be a member of the site to enter the chatrooms. All the sites below that I have picked out for this article offer free chat before becomming a member. When you clicking on a model you enter her public chatroom. This meaning that there are often many other users here as well and all can see what is written in the chat.
The public chatroom is a great way to get to know a model before entering a private one-on-one live sex cam show. But some sites even offer free live sex in the public rooms, and especially Chaturbate that you can read more about further down. They let you watch live sex shows even for free!
Live sex and chat options
When it comes to watching live sex cam shows you have a few options to go with and I'll explain more about them now.
Free chat
Are where you can enter a model's chatroom and start chatting without paying anything or even before becomming a member of the site. But as a free member, you get access to more site features and options inside the chats. Inside the free chat, you can interact with the models by using the public chat. You can also send a tip to the model, this can trigger her sex toy to vibrate or for her to perform a certain sexual act.
Before there used to be no nude girls in the free chat, but today most sites have added a tipping system so the user has the option to send a tip. And by doing that they can make money even from the free chats. And with some popular models having thousands of users watching at the same time they can actually make more money by getting tipped than going into private cam shows.
Ticket shows
Also known as Gold Shows is were the cam model announces a certain time for the live sex camming show to start. And you will need to buy a ticket to watch the show, and everybody with a ticket can watch the show. This is a cheaper way to watch webcam porn shows if comparing it to a private one-on-one cam show.
Private 1-on-1 sex camming
This is where you can get a private and more intimate live sex experience. Here you can customize your own live sex cam shows, talk to the models and let them know your deepest sex fantasies. It is always best to ask the models first about what they offer in a private show. The one-on-one sex cams are not the cheapest way to watch live cam porn, but it's the best way to watch it.
When watching a live private sex cam show you pay a minute rate. The price per minute is often set by the models so the prices can vary a lot between different models. The cheapest webcam porn site is Chaturbate that you can read more about it further down.
Live Jasmin – Biggest Sex Cam Brand
This is the most well-known name when it comes to live sex cams. Almost everyone that has been online has probably come across an ad from them at some point. It's also an award-winning cam site that has been around since 2001. So you know that they must be doing something right.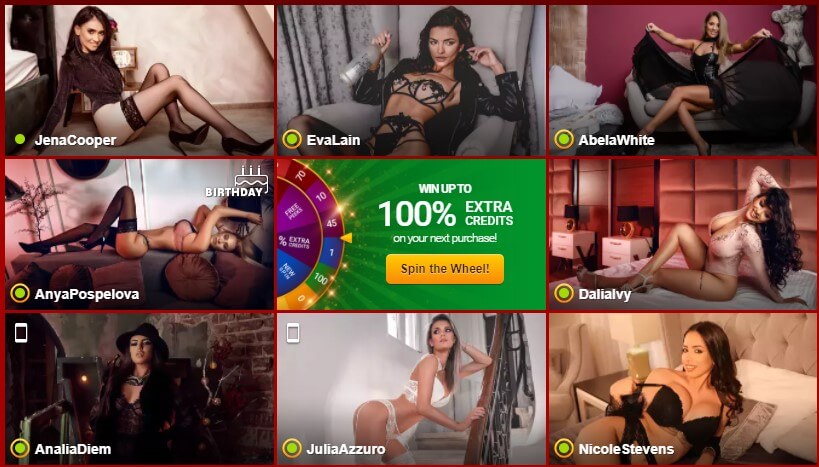 The models here are very professional and the minute rates for watching a private sex cam show stars from $0.88 per minute. Live Jasmin credits are bought in packages and the more credits you buy they will add some extra free credits on top. New members also get to 'Spin the Wheel' where you can win up 99% extra credits on top of your first top-up.
You can learn more about the site in our Live Jasmin Review or click on the link below to start exploring the site by yourself.
Chaturbate – Cheapest Webcam Porn
Here you can watch free live sex shows without even being a member. But is Chaturbate totally free? Yes, the public sex shows are totally free, with the option to send a tip to the model. Most Chaturbate models are amateurs streaming live webcam porn from their homes. The models are a mix of girls, boys, couples, and trans cams that treat it either as a hobby or as their full-time job.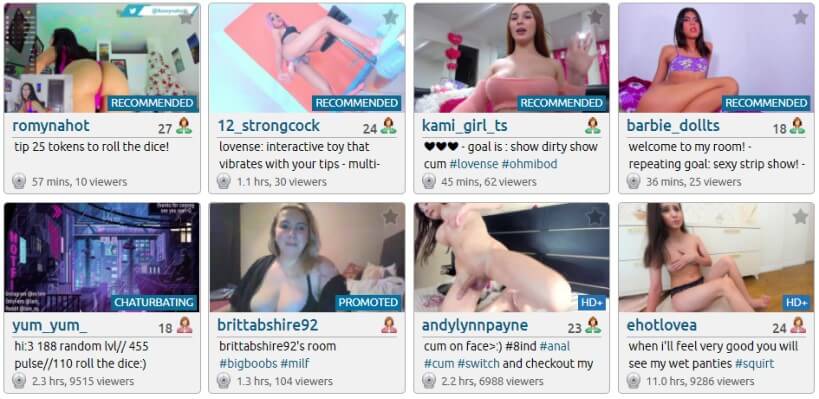 To fully enjoy the site you should signup for the free Chaturbat account. This gives you access to more site and chat features, such as private messaging, follow your favorite models, and get a notification when they come online.
The private shows start from 6 Chaturbate tokens per minute, which translates to around $0.60 per minute (depending on which token package you bought). But at Chaturbate the public shows and ticket shows are the most popular. So have your tokens ready and send some tips to the girls.
Learn more and get all the details about the site in our Chaturbate Review or visit Chaturbate now by following the link below.
Summary
I recommend you check out both sites and see what you think about them. Live Jasmin is a great sex cam with some hot professional live cam performers. If you are into more of the amateur feeling of a live sex cam show streamed from the model's own home, then Chaturbate will be your choice.
Recommended Reading For You