My Tranny Cams vs TS Mate article updated on November 12, 2020 by Live Cam Reviews.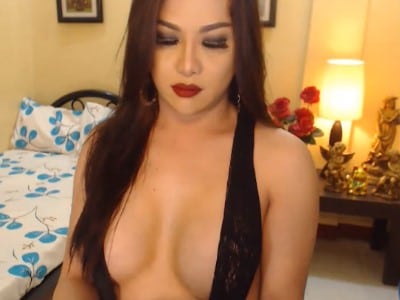 In this blog post, I want to compare two of our top-rated shemale cam sites. Namely, My Tranny Cams and TS Mate (full reviews).
For this comparison, I'll be using the criteria in our official rating criteria for our live cam reviews.
So without further ado, here are my mini-reviews and comparison of My Tranny Cams and TS Mate.
Overall Impression
The first thing I like to do when reviewing a new site is to test the site pages on various devices. For this review, I compared the sites on desktop and smartphone versions. Both sites are mobile-responsive meaning that you can easily access the various pages on your smartphone with the text size and images properly fitting the size of your mobile screen.
The overall design and navigation of these two sites are rather similar. But I did find one cool little feature that TS Mate offers that My Tranny Cams doesn't. If you hover your mouse over any of the model profile images on TS Mate, you'll be able to catch a sneak peek inside the live video feeds. My Tranny Cams has this same feature but only TS Mate gives you audio on the sneak peeks. This allows you to quickly see and hear what's going on inside the chat rooms without having to actually enter.
Overall, both sites are easy to navigate but I give a slight advantage to TS Mate (visit site) for having a better overall design and user experience.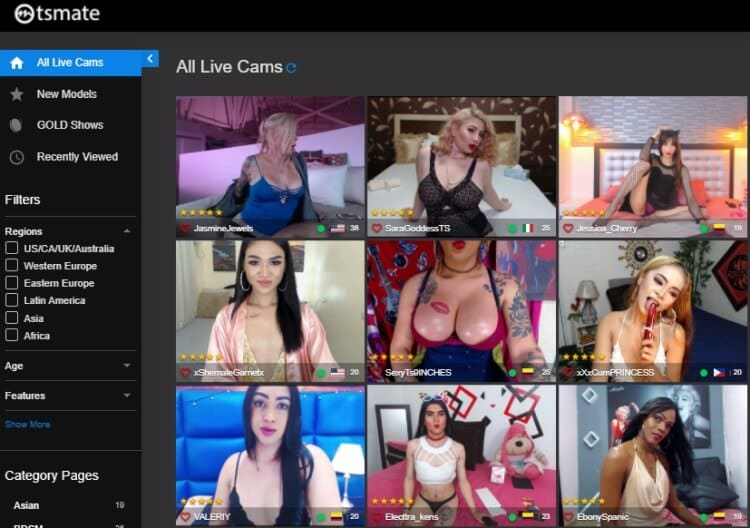 Video Quality
For the video quality criterion, I tested about half a dozen chat rooms on each site. Overall, the video quality looked good but My Tranny Cams seemed to have sharper video feeds. You can easily view the HD webcams on TS Mate by selecting 'HD' from the 'All Features' drop-down menu. But I couldn't find the same filter on My Tranny Cams so you would need to individually test the webcam quality by entering the free chat rooms.
Obviously, you'll want your private shows to be fast-loading so that you get a smooth visual experience. So if I had to recommend only one site, I'd go with My Tranny Cams for its superior video quality.
Number of Models
Right now, TS Mate has 73 online models and My Tranny Cams has 141 online models. So My Tranny Cams has approximately double the number of models. If you're looking for Asian shemales, then you'll find about 15 ladyboys on TS Mate and 76 ladyboys on My Tranny Cams. So clearly My Tranny Cams also has a superior selection of Asian ladyboys as well.
My Tranny Cams also has a more extensive model category list. Clicking on any of the categories on either site will update the model profile listing with your preferred selection. You can browse by BDSM, Big Cock, Black, Latino, and about 25 other categories on My Tranny Cams. Whereas TS Mate has fewer categories but they list the number of models within each category.
If you're looking for a variety of different ethnicities and fetish shows, then My Tranny Cams wins the prize for having the best selection of live transsexual cams.
Site Features
Both sites give you free chat rooms with basic chat features. You can change the size of the chat window, use emoticons in your text chat, and change the size of your font. Once inside the chat rooms, you'll also be able to tip the model (assuming you have purchased credits) and 'Take a peek' inside her private room if her show has already started.
TS Mate is known for its Gold Shows which are special discounted shows with multiple viewing members. It's probably the most popular show since they usually go for only $1/minute. My Tranny Cams has a similar chat mode which is known as VIP Chat but only a small number of performers currently offer this feature.
The one feature that My Tranny Cams has that TS Mate doesn't is their special Spin the Wheel bonus. If you visit MyTrannyCams.com and click on 'Spin the Wheel', you can win up to 100% extra credits on your first purchase.
Overall, both sites have basically the same free chat features that are common to most adult cam sites but My Tranny Cams (visit site) has the better overall features thanks to their Spin the Wheel bonus.
Site Usability
It's easy to enter the free chat rooms and it only takes a second to click on an image to get inside. If you don't register, you'll be timed out on My Tranny Cams with a pop-up window asking you to register. It's free to join so there's no reason you wouldn't since you'll have a more pleasant user experience since you can enjoy uninterrupted chat time with your favorite hosts.
As mentioned earlier, both sites are easily accessible regardless of the device you're using. But I actually prefer the newly upgraded design on TS Mate. It just looks cleaner with fewer distractions and I noticed the model listings page updates faster when selecting a model category. Because of this, I give the slight advantage to TS Mate for having the better site usability.
Value For Money
There's a wide range in pricing on both sites and you'll end up paying about the same. The pay-per-minutes on My Tranny Cams range from $0.98 to $9.99 per minute whereas TS Mate prices are from $0.99 to $9.99 per minute. I couldn't find an easy way to filter by price so you may need to ask the model in her free chat about her prices.
Because models set their own cost per minute, the price you pay will depend entirely on the model you select. However, since My Tranny Cams offer their special Spin the Wheel bonus where you can get 100% extra credits on your first purchase, I've scored this criterion slightly higher for My Tranny Cams (visit site).
My Tranny Cams vs TS Mate – Final Verdict
My Tranny Cams and TS Mate have more similarities than differences and it's hard for me to recommend only one. But because of its superb selection of American and Asian ladyboys, and because of their free credit offer, My Tranny Cams is probably the better of the two at least for first-time buyers.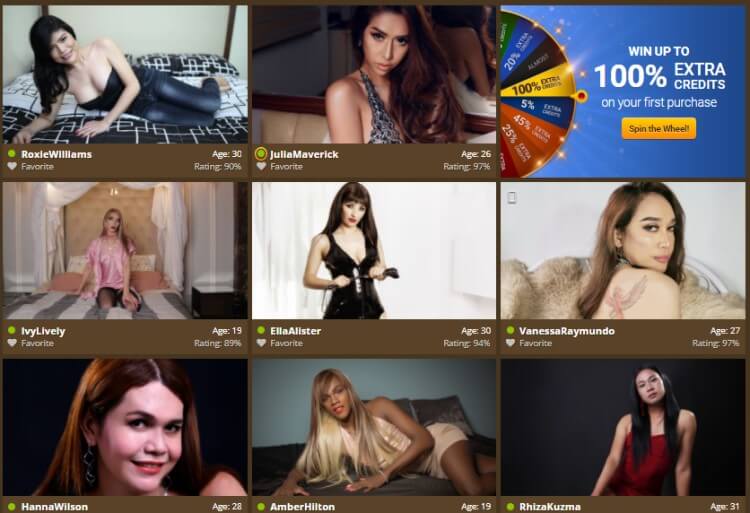 That said, I've had great experiences on both sites and regardless of whether you're free chatting or paying for private shows, you will get your money's worth on both sites assuming you select a reasonably priced camgirl.
Trans Cam Resources
If you're looking for other transsexual cam sites, then I recommend you view our list of Top 10 Trans Cam Sites where we've reviewed, ranked, and compared the best sites. You can also view our Latest Tranny Cam Reviews with in-depth membership details to help you decide if it's right for you.