Sexier.com Gay Review updated on November 15, 2022, by Live Cam Reviews.
Introduction
The gay men live webcam scene has recently become popular thanks to innovative new sites such as Sexier.com (gay).
It offers free male cam chat rooms that let you connect to 13,123+ live gays and 6630+ straight boys with the click of a mouse.
The live private shows are hardcore, with you in control of the show.  Not only was I impressed with the site's features, but the low prices made these masturbation boys an even more attractive option.
You've never seen gay webcams like this, so keep reading to get the important site details.
Top 10 Gay Live Porn Sites
See how Sexier Gay compares to our other Top 10 Male Cams.
Impression
Large images display all the live male cams and couples with links to FREE CHAT or PRIVATE CHAT.  Not every guy has a free public chat room, but anytime you visit the site, you'll likely find 50 to 100+ free webcam feeds:
In terms of design, Sexier is one of the most stylish male webcam sites.  The default is the GALLERY VIEW which displays more models per page.  But you can also click on the DETAILED VIEW (top right above model pictures) to browse a more detailed profile view.
The site is quick to navigate and is also responsive to mobile devices. This means you can enjoy the free and paid chat options on your smartphone, with the video stream automatically fitting your screen size.
Male Cam Models
The Sexier.com network features an impressive 20,000+ registered gays, bisexuals, straight boys, and couples.  You'll always find over 50+ gay chat rooms online, but during peak hours, you can find well over 100.
Most models come from the US or Europe, but there's a decent selection of Asian boys.
The best way to find your perfect guy is to scroll down to the bottom of the model profile page.
Free Chat with Gay Men Live
Underneath the images is a link labeled FREE CHAT.  Click on this, and you'll be taken into their public chat room. Connecting to live guys in a live video webcam feed is free.  Unregistered guests will get "timed out" after a few minutes of chatting.  To get around this, you can sign up for a free account which will give you unlimited access to free video chat: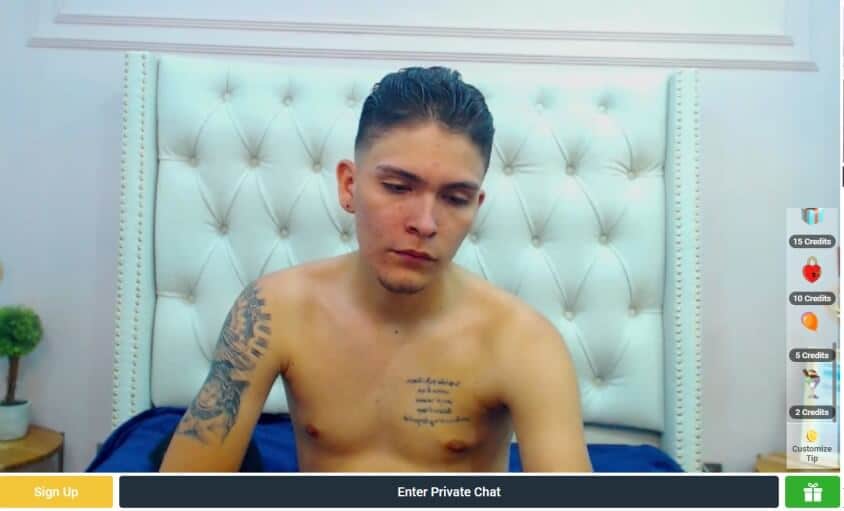 Many models will have their microphones turned on, so you can listen to their voices as they respond to your texts. This is not only the case in private shows but also in free chat. If you like what you see and hear, you can have him all to yourself by paying for a Private Show.
Private Show
Here's where things go from flirting for free to pay-per-minute hardcore.  The guys are less inhibited during live private shows and will do whatever you ask, assuming you pay up. After all, they get paid per minute, so they want to perform to their best ability to keep you paying for as long as possible.
Some models will masturbate and do anal shows for only $0.98 per minute. For gay men, live cams this is a great value for your money.  There are also the "Happy Hour" models for only $0.88 per minute, but they're not always that many of them.  On average, you can expect to pay $2 to $3 per minute.
Before you can enter private rooms or view the previously recorded shows, you'll need to buy credit.  Credit is purchased for $1 per credit in packages starting as low as $24.95:
25 credits – $24.95
50 credits – $49.95
75 credits – $74.95
100 credits – $99.95
Special Features
In addition to the unlimited gay men live video chat, registered members can enjoy several unique features.
The chat rooms have 4 different screen sizes, so you can navigate left and right and zoom in and out to get a better view.
During private shows, you can turn on your webcam for a two-way Cam2Cam video chat (optional).
There are also VIP Shows where multiple members can view the same show at a discounted gay cam price.  VIP Members can also enjoy unlimited VIP Shows for a fixed cost of only $10/month.
The newest feature is the 'Candy Show', which lets multiple guests compete for the model's attention. You probably won't use many of these features, but it's proof that Sexier is one of the more innovative sites of its kind.
Conclusion
So, where does that leave us?  Well, if you're like me, you'll probably want to get the best value for your money.  You'll also want to have a selection of hot male cams. I'm glad to report that Sexier Gay offers both of these things.
Even if you're looking to meet some fun and interesting people, you can enjoy access to free webcam models without giving your credit card information.  Registration is completely free, and it only takes a minute to sign up.  This way, you get access to all the site's features and live private show access. If you're looking for hot gays on a live camera, you'll want to check it out.
Recommended Reading For You