X Love Gay Review updated on November 15, 2022, by Live Cam Reviews.
Introduction
X Love Gay is a live cam gay cam featuring gay and straight webcam models. The site offers members several groovy features, and visitors can chat with any guys currently online without registering.
It's mostly European male cam models, and the site offers a reasonable price.
Impression
One thing you'll notice with this site is although it does have an impressive roster of gay and male performers, there aren't usually a whole of guys online to choose from. That's not necessarily bad, though, since the guys are more willing to give you their full attention.
Rather than just being a mega-site with tons of free chatters, you can feel like you're part of a live community.
For this review, I've tested the site and features on my desktop and my Samsung Galaxy phone. Mobile users will be glad to know that the live chat rooms are mobile-responsive, meaning that the live video feed will automatically fit your screen size.
Since our last visit to the site when we wrote the blog post: 7 Best Gay Webcams Compared, the selection of models has improved somewhat. So it does seem to get better over time.
Navigation
I wish more sites would pay attention to X Love Gay because there aren't many sites that provide such an excellent user experience.
The design is sexy and stylish, but it's also simple and easy to use. On the left sidebar are your search options.
You can filter the guys by Category (Boys, Couples), Language, Featured Private Shows, Model tariff, Ethnic Group, Height, Weight, Hair Colour, Hair length, Eye Colour, Age, and Chest.
Clicking on these options will automatically update the model profile list with your selection. You can select more the one filter, but the more you select, the fewer models you'll find.
Models at X Love Gay
This is a European male cam site, so you can expect to find British, French, Spanish, Italian, German, Dutch, and Portuguese boys.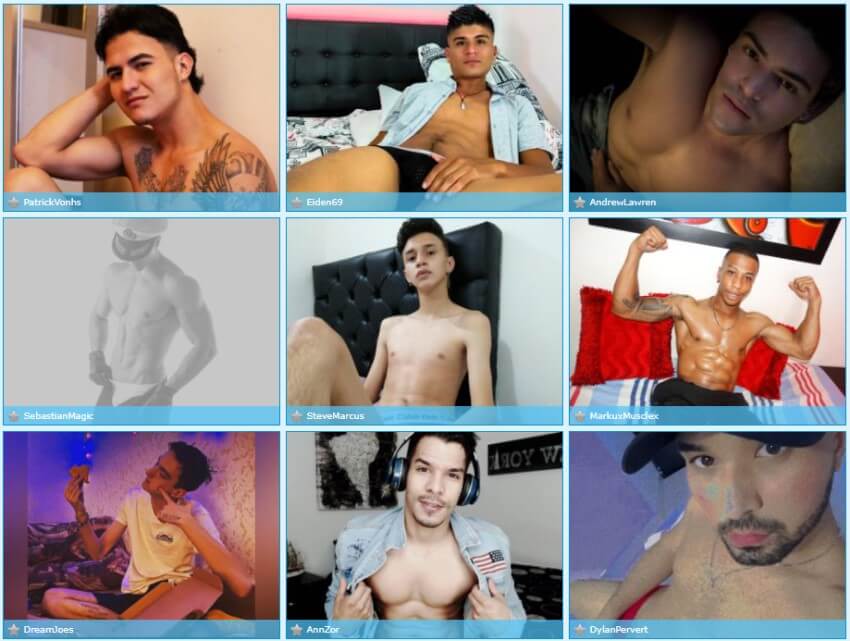 One feature you will appreciate is hovering your mouse over any of the profile images and getting a sneak peek inside the live webcam feed. It gives you a sense of voyeurism as you can browse quickly without having to enter free chat.
As I mentioned previously, you get the option of free chat, even without having to register. So it's completely risk-free to try the site out and get to know the models.
Price
The price-per-minute in private shows depends on the model you select. If you're purchasing from the USA, it will cost $1.99 up to $4.99 per minute. Most guys are priced between $1.99 and $2.99 per minute. Which is much higher compared to what you would pay at our number one ranked gay cam Chaturbate (review)
The private shows will set you back 1.6 Euro/min if you're paying in Euros. Not the cheapest site out there, but the quality is better than most in design and video chat features.
Conclusion
X Love Gay is one of the better cam gay sites. The design is elegant and easy to figure out, and the free chat lets you connect without hassle. It's reasonably priced, especially considering all the Featured Private Shows, but there aren't many models to choose from.
If more guys were to choose from, it would get a better score based on our rating criteria. But even with the limited selection of models, you'll still want to check it out.
Recommended Reading For You