Stripchat vs Chaturbate article published on April 21, 2021, by Live Cam Reviews Blog.

Which Site is Best – Stripchat or Chaturbate?
In this article, I will compare two of my favorite adult sex cams Stripchat and Chaturbate (visit sites). To be honest I'm a member at both of these cam sites and when it comes to watching live cam porn these are the two cams that I personally use on a regular basis.
In the following comparison, I'll be covering both site's details and chat features and in the end, I will include my own expert opinion. So keep reading to learn more about the two leading adult cam sites.
Overall Impression
In the past, you could only watch live cam sex by paying a minute rate for a live cam show. But those days are gone now with sites like Chaturbate and Strip Chat that lets you watch live sex for free in the public chatrooms. Yes, it's true! You can watch live can totally for free.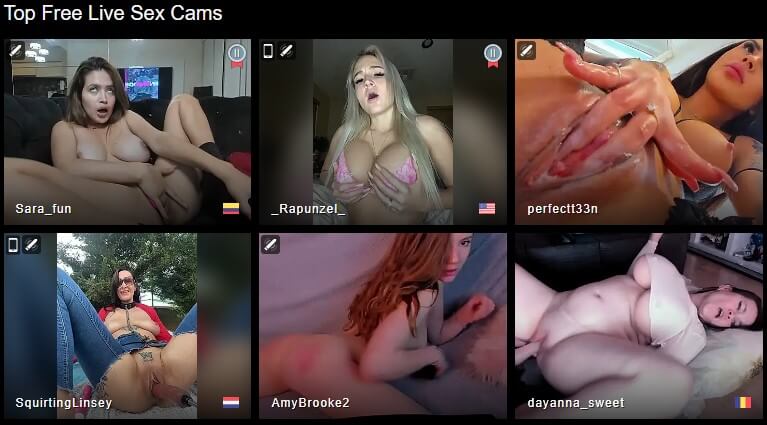 So what is the catch with these free sex cams? So the free live sex cam shows happen in public chatrooms where you and often hundreds of other users are watching the same show at the same time. Meaning it's not a private one-on-one cam session where it's only you and the model.
If you are looking for a private one on live sex show with an option to switch on your own camera you need to go into a private show. And now it's no longer free to watch the show, inside the private one on one cam you pay a minute rate set by the model.
Also inside the free public shows, you have the option to send a tip to the model, control sex toys, and take part in competitions.  It's also here the models make the most money these days. Popular models can have thousands of users watching and there's always some that love to send a tip to trigger the models to perform certain sex acts.
Sex Cam Video Quality
Most of the models on both Chaturbate and Strip Chat are amateurs broadcasting their live cam shows from their own homes. So the cam quality varies a lot depending on what kind of webcam they are running and if they have invested in some lightning at home. Also so many broadcasts from part of the world where the internet is a little bit slower and more unstable and this also of course plays in as a factor.
But nowadays many of the models have HD cams and the internet speed seems to get better and better each year. For some reason, it seems like Strip Chat delivers a little bit better quality when looking at the streaming quality. But it can vary a lot between the models.
At Chaturbate you can scroll down to the bottom of the page and click on the HD cam filter and now you will only see models that offer live shows with HD webcams.
Number of Cam Models Online
Either you choose to join StripChat or Chaturbate you will not have any problem finding enough models online at any time of the day.
If looking at the number of models online in all categories female, male, couple, and transgender then Chaturbate is the winner with almost always 4000+ performers online from all parts of the world. But StripChat is not far behind with always 2000+ performers online.
You can find performers from all over the world and both sites have a good selection of models in popular categories like Latina cams and Asian cams. But if you are a fan of Indian sex cams then Strip Chat could be the best choice for you as they seem to have more Indian live cams.
Site Features
When writing this StrpChat vs Chaturbate comparison it was hard to find any real difference when it comes to the site features. Chaturbate was the first site that started the trend with free adult cams with the option to send a tip or go private.
I will mention a few of the most common site features that you will need to know about. At first, you land on either Chaturbate or StripChat home page where the models are displayed with reason screenshot is taken from inside their chatrooms.
Clicking on any model will take you inside the live cam show and that's is all you need to do to start watching a live sex show. To do this you don't even need to be a member of the site.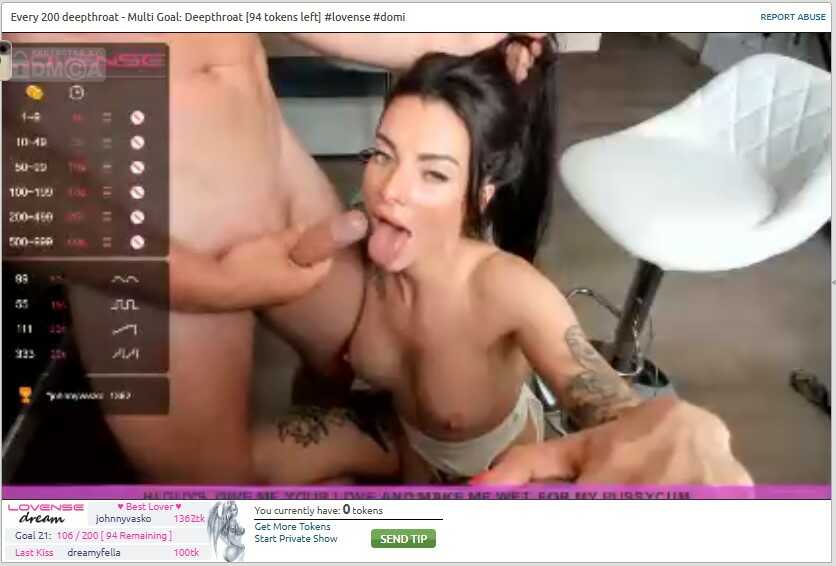 To get the most value out of the sites the best thing is to signup for a free membership which only takes 1 minute (no credit card needed). The free membership unlocks more site features. For example, as a member, you can follow your favorite models and get notifications when they get online.
If you would like to send a tip to a model, control their sex toy or try a private show you need to have an account and top it up with credits. Credits are bought in packages and the more you buy at one time the cheaper each token gets.
But Strip Chat offers something that you can't find at Chaturbate and that is live VR sex cams. This is really a pretty new feature in the live cam business and so far it's a very limited amount of models that can offer live VR sex cams. But if you have your VR headset setup at home already it's really worth trying av live VR cam experience.
Value For Money
If you are only looking for watching totally free sex cams then both sites are great options.  At both sites, you can start watching the live sex cams before even signing up for a free account.
During the private live cam shows you have the option to send a tip, so how much you want to spend here is totally up to you.
At both sites, the performers set their own minute rates for private one-on-one cams so the cost for a show or how much you spend really depends on you. And the best thing is that you actually don't need to spend anything if you don't feel for it.
But at Strip Chat you have the chance to win 50 free credits when you signup for the free account. So that gives a little advantage for Strip Chat.
If you choose to top up your free account with credits both sites offer payment with credit cards as well as Bitcoin.
Stripchat vs Chaturbate Expert Opinion
Choosing between these two free sex cams is not so easy as they both deliver top-quality free sex cams and low-prices private live cams.
Looking at the numbers of models online Chaturbate has a slight advantage but at the same time, Stripchat seems to have a little better selection of cams with higher streaming quality.
At both sites, you can signup for a free account (unlocks more site features) and no need to give up any payment details unless you want to buy credits. One plus here for Strip Chat is that you have the chance to win 50 free credits.
Chat features at both sites are very similar, but Strip Chat also offers VR sex cams. So that is a slight advantage for Strip Chat but usually, you can only find a couple of VR sex cams online so the selection of models is very limited.
My recommendation is to signup for both sites and the site you manage to find the most models that fall in your taste will probably be the cam sites you will be using the most.
Now it's time for you to start exploring these great free sex cams on your own.
Visit Stripchat Now, or Visit Chaturbate Now.
Adult Cam Resources
Learn more about each site in our full reviews: