My Tranny Cams vs Chaturbate Site Comparison published May 5, 2021 by Live Cam Reviews.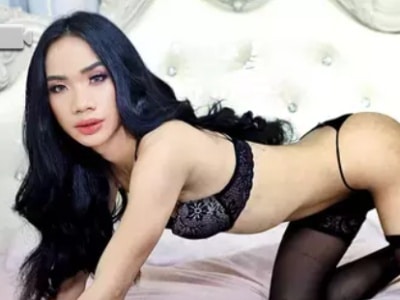 Trans porn has been gaining in popularity over the years. And the live cam niche is no exception. Not only can you watch live streaming trans porn, but you can also find a TS girlfriend, or a temporary flirt.
It's not always easy determining which sites are to join and which ones to avoid. But when it comes to the very best transsexual webcam porn, there are two sites that stand out from the crowd.
In this blog entry, I'll compare two of my favorite live shemale sites, Chaturbate.com and MyTrannyCams.com, using each of our rating criteria.
Overall Impression
Overall, I'd have to give the edge to My Tranny Cams for the more modern-looking design. The images are larger and I prefer the overall look and feel.
When you first visit the site, you're free to enter the chat rooms to test out the live video streaming quality, but only members can type in the chat box.
At least it's free to join, and there's also free credit offers available for new members so you can test out a quick private chat to see how it all works.
Chaturbate, on the other hand, doesn't require you to join to partake in their hardcore shows. You simply visit the site, choose your favorite t-girl, and watch her stroke for free, all as an unregistered guest.
Note that Chaturbate isn't solely a trans webcam site, so if you also prefer flirting with hot webcam women, guys, or couples, then Chaturbate is the better choice.
Winner: MyTrannyCams.com
Video Quality
It's hard to compare the video quality since every model is different. So for this review, I tested the first dozen models on each site. The result: My Tranny Cams looked significantly better, at least for the models near the top which usually indicate the top-rated cam models.
On Chaturbate, you can easily find the HD webcam models by using the "HD" label indicated on their profile images. My Tranny Cams used to have a similar category, but they've since removed it.
Either way, you won't have any difficulties finding a quality video stream since there's always HD trans webcam girls to chat with at every hour of the day.
Winner: MyTrannyCams.com
Number of Models
I remember when I first reviewed Chaturbate back in the day before it was mainstream. At the time, the model selection was very limited.
Nowadays, it's one of the most visited adult sites on the internet. There are literally 1000s of registered transgender webcam models with 540 currently online as I write this review.
In terms of variety, there are Asian ladyboys, ebony shemales, Brazilian bubble-butts, and Euro cam tgirls.
My Tranny Cams has about one-fifth of the models with just over 100 online now. There seems to be more Asians than Westerners so if you have yellow fever, you should have no problems with either site.
Winner: Chaturbate.com
Site Features
The easiest way to compare the site features of My Tranny Cams and Chaturbate is to list out the most popular features of each site.
Let's start with Chaturbate. The hottest feature of this site is the 100% free webcam sex shows. In my opinion, this is the reason that the site has become the most visited adult video chat sites of 2021.
You can also send and receive private messages, take snapshots from private shows, purchase pre-recorded videos with tokens from your favorite models, and control the vibration of her sex toy.
My Tranny Cams also has its perks. You'll find two-way audio chat rooms, options to favorite your models and send gifts, free video previews of your favorite models, and 9.99 free credits if you create a free account.
Both sites have their own unique features, but it's hard to compete with the generous free transgender webcam shows of Chaturbate.
Winner: Chaturbate.com
Site Usability
Regardless of which site you decide on, both are compatible with all devices. These days, my guess is more and more people are sex chatting on their mobile phones. So it's great to have the option of chatting anytime, anywhere.
However, My Tranny Cams gives you more categories. Basically, all the trans models at Chaturbate are sorted by popularity, but there's no specific category list other than a general 'Trans' category. But My Tranny Cams gives you Asian, ebony, Latin, and a 'Sale' category for discounted live tgirls.
Furthermore, My Tranny Cams allows you to change the number of models viewed on each page in either larger or smaller images, take your pick. But Chaturbate has only one standard viewing option.
Winner: MyTrannyCams.com
Value For Money
Both sites offer free chat with live streaming webcam videos, so there's always that option. As mentioned, Chaturbate gives you free hardcore shows as well. In other words, it's entirely possible to get value from these sites without paying a penny.
However, the private hardcore sex shows on both sites require credits. Both uses a pay-per-minute system with My Tranny Cams models priced at $0.98+/minute and Chaturbate at $0.60+/minute.
Note that these are the starting prices, but the average is closer to $2 or $3/min.
Winner: Chaturbate.com
Conclusion
I don't want to give you the impression that one site is better than the other, since it really depends on what you're looking for.
If you want free transgender webcam sex shows, and you don't want to spend your hard-earned money, then visit Chaturbate.com and create a free account. You'll now have access to thousands of live TS models with access to daily hardcore sex shows.
If you enjoy Asian ladyboys and you're okay with spending some cash on webcam tgirls, then you may prefer the overall quality of the babes at MyTrannyCams.com.
Check out our Top 10 Transgender Webcam Sites or read detailed reviews to learn more: