Chaturbate BDSM updated October 26, 2022, by Adult Cam Blog.
How To Watch Chaturbate BDSM Cams
Chaturbate is one of the most popular live porn cam sites and has thousands of cam broadcasters online at any time of the day. In previous articles, we have looked closely at the Chaturbate Thai cam girls, Latina performers, and ebony webcams. Today's article will look closely at the Chaturbate BDSM cam selection.
Only a couple of years ago, there were few fetishes or BDSM cam performers at the Chaturbate. Today you can find a pretty good selection of BDSM cams, they are maybe not as hardcore as the fetish cams on Fetish Galaxy (review).
How To Get Started On Chaturbate
At most adult cam sites, you must first register an account to watch live nude and sex cams. But how to get started on Chaturbate.com is one of the easiest things you can do, all you need to do is visit the site and click on any model, and now you are in the middle of a live sex cam.
If you see what you like and want to keep using the site, then you can decide to signup for a free account. And all you need for that is a valid email address and to come up with a username. A free account offers more site features like sending private messages, taking part in the live chat during the shows, and more.
Later on, if you want to send a tip, control the model's sex toys or go into a private one-on-one cam show, then you can add your credit details and top up your account with Chaturbate Tokens.
You can learn more about the site's features and pricing in our detailed Chaturbate Review.
The Chaturbate BDSM Cams
In total, you find around 3000-4000 cam performers online here, and they come from all over the world, often streaming live from the comfort of their homes.
Chaturbate uses a tag system, where each cam performer has tagged their chatroom with one or several tags. In this case, we looked for and sorted out all the models under the #BDSM tag: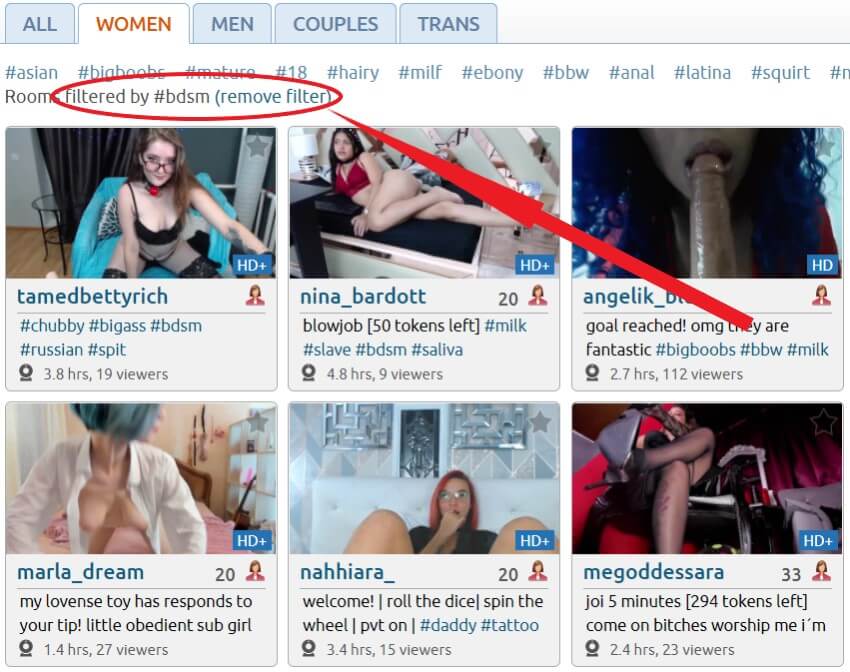 After filtering the cams to show only the BDSM cams, you usually have around 150-250+ broadcasters online. It is a lot less, but still a pretty good selection for fetish cam models.
How Much Does A Chaturbate Cam Show Cost?
So when discussing the price, we need to separate the different options for watching the live cam shows.
Free Live Sex Cam Shows
First, we have free shows you can participate in by entering any model's chatroom. In a free show, it is up to the model how much they want to show here, the models earn their money during free shows from visitors that can tip them by sending Chaturbate Tokens. The visitors can also use their Tokens to trigger the model's sex toys or send tips to make them perform certain acts.
Ticket Shows
Then we have the so-called Chaturbate ticket shows. Here the visitors have the option to buy a ticket to a show that will start at a certain time, the prices for these shows are set by the models. But it is a much cheaper option than a private show.
Private Shows
And last, we have private one-on-one cams where you can turn on your webcam and microphone. This is where you will get the best cam experience, especially regarding fetish and BDSM live cam sex. In the private shows, only you and the model get a much more intense and intimate live sex experience. A recommendation is to check with the model first and see what kind of fetish fantasies she can deliver. For a private show, you pay a minute rate set by the models, and the price starts at around $0.47 per minute.
You can learn more about the pricing in our article — Chaturbate Tokens Price.
Membership & Pricing
Getting a Chaturbate account is free, and all you need is an email address, username, and come up with a password. Your membership unlocks some more site features and allows you to purchase Chaturbate Tokens that you can use for private shows.
Tokens are bought in bundles; the more you buy, the lower the cost per token. So the minute rate in dollars for a cam show depends on the model's minute rate and which token package you have bought. So the minute rates for a private 1-on-1 adult cam show start from $0.47 per minute.
Chaturbate BDSM Cams Summary
Being an adult cam where you can watch live sex for free and with a good selection of BDSM and fetish cams, I see no reason not to check out the site. Chaturbate has been my go-to site for years for watching live cams. And today, with a better selection of broadcasters focusing on BDSM cams, I think it is a site you need to consider. You can also find more BDSM cam sites in our top 10 fetish cam list.
So my recommendation is to heads over to Chaturbate.com and checks out the site and its broadcasters.
Recommended articles for you