Chaturbate vs Streamate Article updated on November 5, 2020 by David.
Which Site is Best – Chaturbate or Streamate

In this blog post, I want to compare two of the most popular adult cam sites, Chaturbate vs Streamate (visit sites). I've been a member of both of these sites and although there are many similarities, there are a couple of things that make these sites unique.
For the following reviews, I'll be covering each of our rating criteria and will also include my own expert opinion at the end. So with our further ado, here is the Chaturbate vs. Streamate comparison.
Overall Impression
Regardless of which site you visit, you'll find an excellent selection of hosts in mobile responsive designs. This makes it easy to enjoy the sites while visiting on your mobile device as the chat windows will automatically fit the size of your smartphone.
In terms of navigation, Streamate displays the model category list on the left of the profile images whereas Chaturbate displays the categories on the top. I prefer how Streamate is set up since you can scroll down to view more models while still viewing the categories on the left.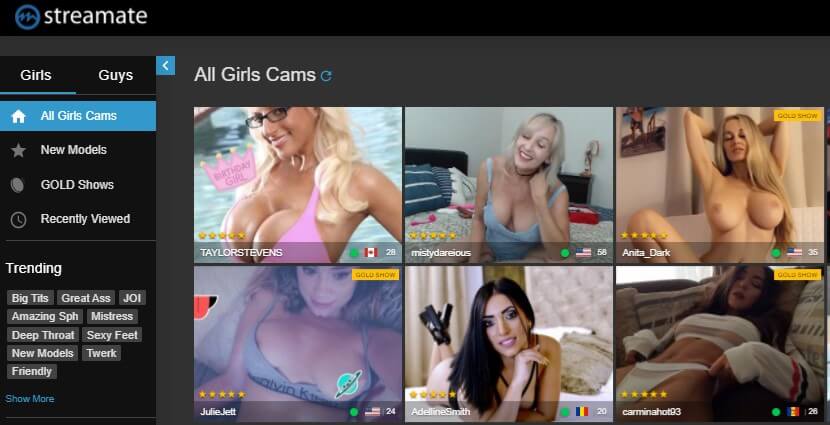 Both interfaces have fast-streaming videos and it only takes a second to enter the free public chat rooms. That said, many of the performers on Streamate are reserved for paying members only whereas Chaturbate allows anyone to enter hardcore shows without joining.
Both sites are a cinch to navigate with friendly user experiences for filtering the model categories. But I give the slight edge to Streamate (visit site) for a slicker design and better-looking free chat rooms.
Sex Cam Video Quality
Video quality is hard to compare between sites since everybody's webcam is different. Some models use standard definition while others use high definition cameras. The important thing is whether the video streams smoothly and whether the microphone sounds clear.
For this article, I tested several chat rooms on each site with attention to video and audio quality. The Streamate rooms have full-screen windows which are usually crisp and clear in video quality. The models are usually interacting with their guests with high-quality mics. Compared to Chaturbate that often has blurry video quality and choppy sound, Streamate does have better quality shows.
However, most of the popular Chaturbate models are also going to have HD cams so you can find good quality videos on both sites. But overall, Streamate has better-looking webcams with smoother video quality.
Number of Cam Models Online
Right now Streamate has 1787 models online and Chaturbate has 4331 models online. So Chaturbate has over double the selection of models. Both sites cater mostly to the straight male market but you'll also find transsexuals, guys (straight and gay), and couples. Comparing the number of non-female models, Chaturbate also has over double the number of transgender performers.
When I first reviewed Chaturbate about 5 years ago, I remember the site was limited in models with average-video quality. But over the years, the site has grown to become one of the world's premier adult chat networks. In fact, it might even be the largest webcam site out there with genuine amateur girls, guys, and transsexuals broadcasting themselves on their home webcams.
Although Streamate better organizes its models with a more detailed category list, Chaturbate takes the prize for having a better selection of models.
Site Features
Let's start with Streamate's 'Party Chat'. This is basically a free group chat where multiple cam viewers can chat and read what other members are typing. It's similar to the 'Candy Shows' on Im Live (review) and is a great way to save money on a webcam. There are also 'Gold Shows' in which members tip the model before she will start the show. Once she reaches her Gold goals, then her show will begin. This is a great low-cost option if you're on a budget.
Chaturbate doesn't have as many features. But the features they do have are excellent. The main attraction of the site is the free sex shows. Chaturbate is the only site I know of where you can visit the home page and immediately begin watching live sex shows for free. This makes it the most free cam site that we've come across here at LiveCamReviews.net. You can also 'Broadcast Yourself' and make some extra money while working from home as a webcam performer.
Overall, both sites have the basic functions such as cam2cam and free video chat. But Streamate has more site features including the Feature Shows performed by porn actresses at fixed times throughout the month.
Value For Money
Last but not least is the value for your money. Obviously, you want your credit to last as long as possible so you'll want to select a host that is attractive but also with good pay-per-minute rates. At Streamate, you're looking between $0.99 and $9.99 per minute for private shows. So Streamate is both a low-cost option as well as a premium site depending on the model you select.
On the other hand, Chaturbate gives you free sex cam shows so it's possible to enjoy the site without paying a penny. However, you can still choose to become a member which has its perks. For instance, you will be able to access the private chat rooms and you'll be able to tip the model during Gold Shows. You'll also have the ability to purchase clips from your favorite webcam models.
Overall, Chaturbate is the better option if your goal is to save money on webcam while also being able to experience live hardcore.
Chaturbate vs Streamate – Expert Opinion
If I have extra money to spend, then I generally prefer to spend my time at Streamate. That's not to say that it's a better site than Chaturbate per se, but in terms of navigation, video quality, number of models, and site features, Streamate is the better of the two.
That said, it's hard to argue against a site that provides visitors with free adult entertainment. Chaturbate (visit site) has one of the most active communities of any webcam site and it's only getting better over time as more and more models join the site.
Regardless of which site you visit, both sites are ranked in my Top 10 Editor's Picks and you should have no problems finding your perfect cam model.
Adult Cam Resources
If you haven't yet done so, I recommend you read our full reviews of Chaturbate and Streamate (visit sites).
You can also compare the 10 Best Cam Sites in which I've reviewed and compared the best sex cams with important membership details about each site.
Please leave a comment below and share your Chaturbate vs Streamate verdict.
Recommended live sex cam reviews for you